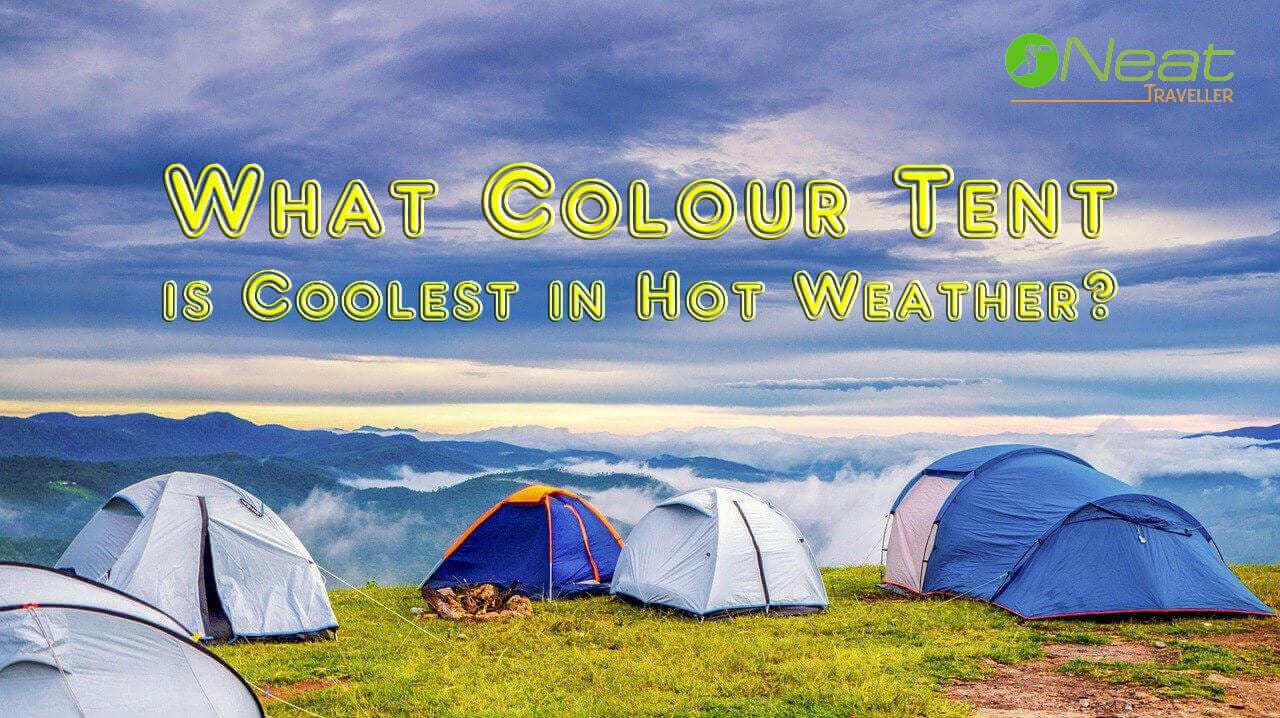 Successful camping is unimaginable without an attractive and protective tent. You may pick a random coloured tent to enjoy your summer vacation. But, this random colour picking may turn your enjoyment into suffering in the hot weather. So, what colour tent is the coolest in hot weather?
You must not want to face any skin disease or a hit-stroke due to extreme sun-heat. Along with this, nobody wants to spend the resting moments with insufferable sweating. Therefore, light coloured tents i.e white tents nicely go with the hot weather.
In addition, a dark blue tent doesn't create additional warmth like the black one and blocks UV rays. The light-coloured tents reflect the sunlight. For this reason, it creates less warmth than the darker tents.
Table of content
Does Tent Colour Matter with the Weather?
Yes, the tent colour matters with the weather. You can't select a dark coloured tent in the hot weather. On the flip side, picking a bright coloured tent will bring unbearable cold in the cold camping. The ability to absorb the heat created by the sunlight isn't equal for all coloured tents. In a hot environment, your tent needs to reflect the heat rather than absorbing. Tent colours are highly dependent on some other factors according to the weather.
The Surrounding of the Place
The weather controls the surroundings of the place you're intending to camp. A colour, able to complement the site should be chosen for a tent. Brown tents are suitable for the desert area. This tent won't seem like an eye blessing in the polar region.
Insects and Other Wildlife
The hot area and the cold area don't have the same colour as the insects and animals. This variation happens due to different weather. If you pick a bright coloured tent, it will attract insects and animals intensely. And, it can be a great threat to your peaceful camping.
Finding Out the Camp Easily
Sunny, clean weather isn't a problem at all for finding your lost camp. What if your camping area is having snowfall? You can't detect your tent easily in this circumstance if it has lighter colour. So, the weather is a big factor before selecting a tent colour.
back to menu ↑
What Colour Tent is the Coolest in Hot Weather?
You may be confused to understand- "what colour tent is the coolest in hot weather?". Here are the clear elaborations on some specific colours.
back to menu ↑
White Tents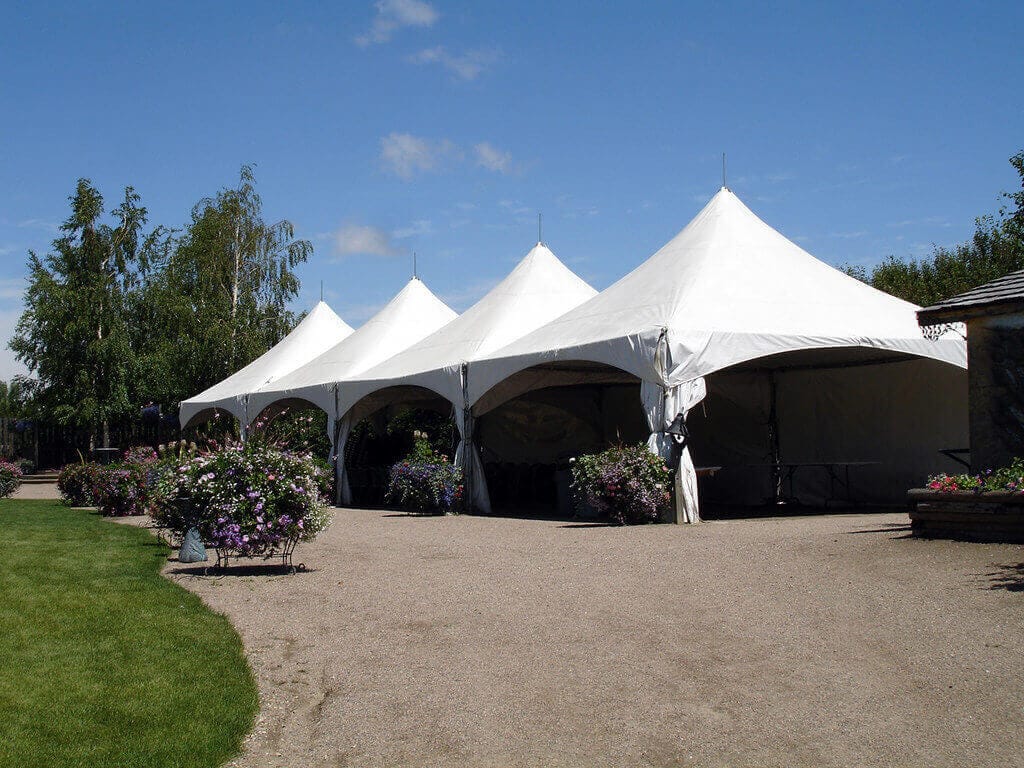 White tents are the best tents for hot weather. Nothing can be better than wearing a white dress on a hot summer day. Similarly, a white tent is also comfortable for hot weather. White tents reflect the sunlight and receive the minimum heat. So, staying inside the tent is comfortable on hot days.
As white tents have a lighter colour, they attract animals and insects. As a result, you can face an unexpected situation while staying the night. If there is a snowfall, you can't identify the white tent easily.
Pros
Keep your tent cool even if it's a hot, sunny day.
Give suitable scenery according to the surrounding environment.
White tents don't fade rapidly.
Cons
White colour is attractive to wildlife.
It's difficult to identify the white tents easily from a long distance.
back to menu ↑
Red Tents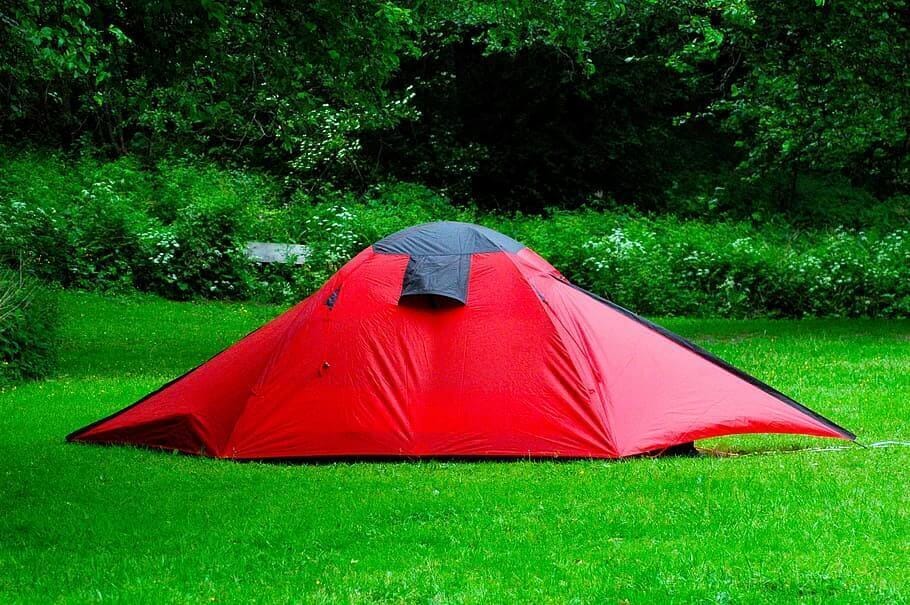 The red colour is attractive, suitable in most of the areas. You can pick this colour tent as it reflects a big amount of sunlight. There is no problem with a red tent if it's in a temperate region. The only problem is the red tent absorbs colour on the red spectrum.
So, this tent absorbs red energy and creates a hot environment inside the tent. The areas with tropical weather have extreme hot weather. However, red tents are better for safety than white ones. They are invisible to many of the harmful wildlife for the inconvenient wavelength.
Pros
The red tent looks gorgeous and suits most of the surroundings.
They are protected from excessive heat.
Wildlife can't detect it easily.
Easily findable in critical situations.
Cons
Red tents absorb red energies and create a hot environment inside.
Unprotected from the UV rays.
back to menu ↑
Pink Tents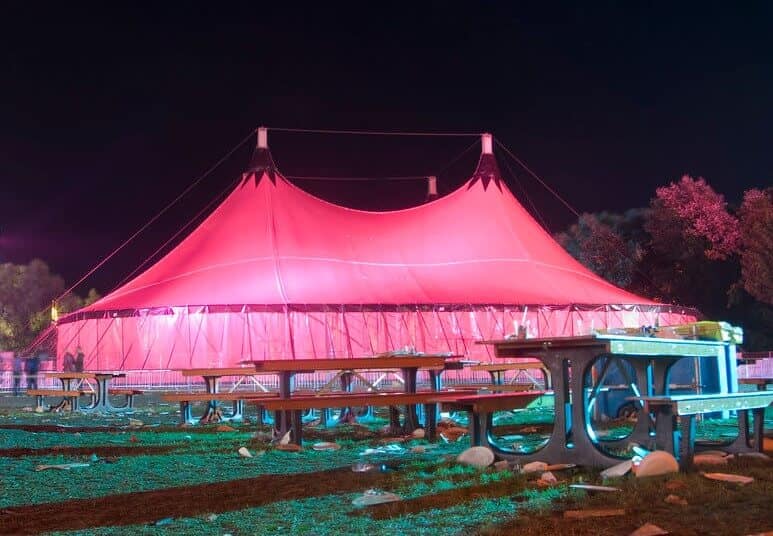 Pink tents are average from other tents. They don't absorb light like red tents or are not reflective like white tents. As they have a lower absorption rate, the inside of the tent remains peaceful. Moreover, this pink colour reflects the stylish vibe and fits with the environment easily.
Pink tents aren't difficult to find like white tents. However, you can't find a pink tent as easily as a red tent. Harmful insects and dangerous animals can't reach the tent easily. Some of the wildlife can easily find the pink tent but they rarely show interest in attacking.
Pros
Provides an optimum temperature inside the compartment.
Don't attract dangerous animals easily.
Visible with minimum effort.
Looks good in a hot environment.
Cons
They aren't protected from UV rays.
Some wildlife may be attracted by the pink tents.
back to menu ↑
Silver Colour Canopy Tents
Canopy tents are one of the dedicated types of the tent family. They come for making your summer vacation more comfortable and safer. Canopy tents strictly block UV rays. Therefore, you can enjoy the moments without the tension of sun-burn diseases. Though its ventilation system is enough to keep its inside cool, the colour is important also.
The silver colour is the best colour for an outdoor canopy. Its silver colour is highly responsive against UV rays. It can reflect a big amount of sunlight. Therefore, it doesn't make the interior hot very fast. Its silver colour is attractive for seagulls. If it's not a beach area, you don't have that risk. However, the colour is difficult to find in extreme weather.
Pros
Offers the best protection from dangerous UV rays.
Good for keeping the tent inside cool.
The silver colour is reflective and doesn't easily get faded.
Cons
Seagulls can detect your tent if it's near the beach.
Not fully reflective as white tents.
back to menu ↑
What Colour Tent is the Coolest in Beach Hot Weather?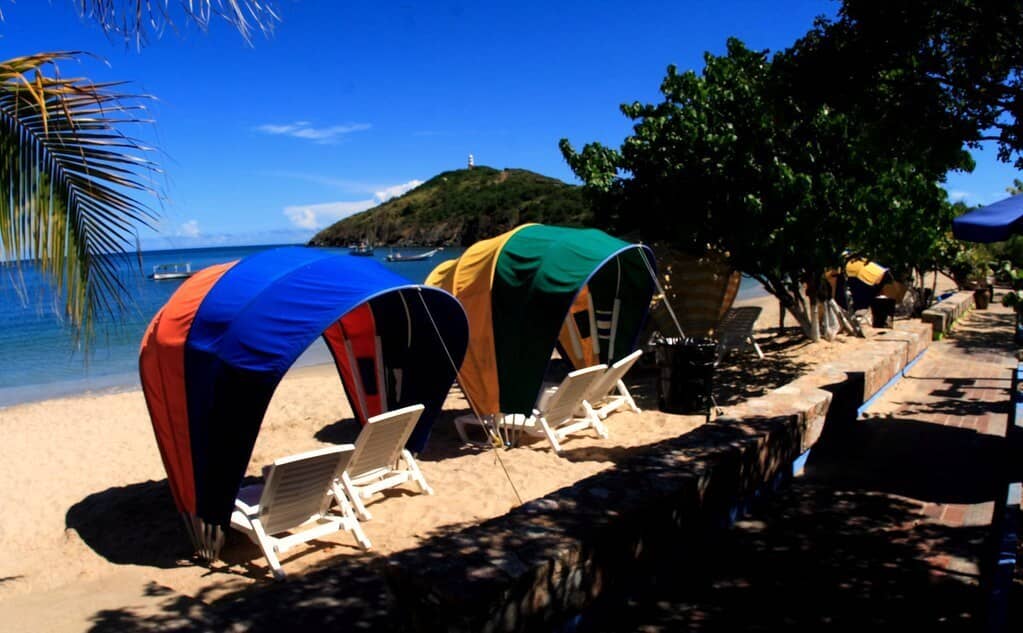 A bright coloured tent may seem like a good selection for beach hot weather. They are reflective of the sunlight and remove additional warmth from the interior. But, picking this kind of tent can be injurious to your health. You can go for dark coloured tents despite the inconvenience of creating warmth.
In the sea areas, you are under the threat of a huge UV attack. Only dark colours can fight properly against the dangerous UV rays. You may think about a silver-coloured canopy tent. But, they are unsuitable for the sea bird's attraction. Try to get a dark colour i.e blue which contains a large amount of black mixed to the colour.
back to menu ↑
What Colour Tent is the Coolest in Hot Weather for Hunting?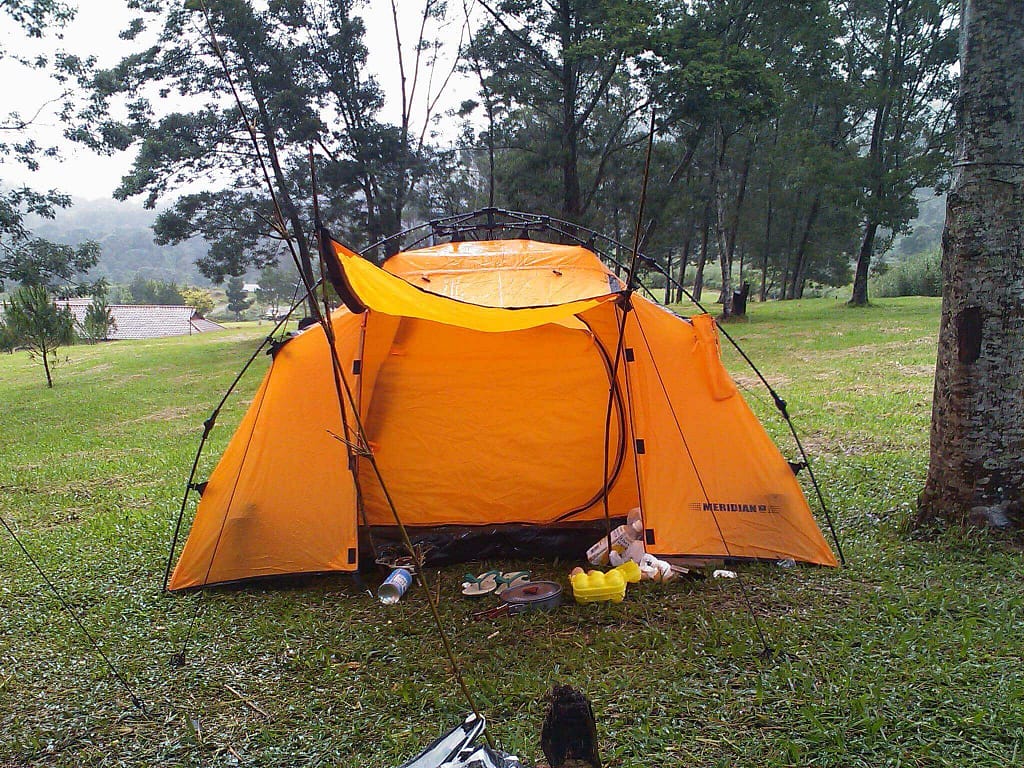 Hunting areas are highly risky as you have a threat of sudden attack. People need to be rescued often after going hunting. If your tent isn't eye-catching, you won't be rescued quickly. You must not select a colour of your tent that can attract the animals.
It's recommended to go for an orange tent. The orange colour looks good enough with the hunting area. This coloured tent isn't convenient for reflecting the heat of the sunlight. The orange colour absorbs a good amount of heat and makes you sweat. Your priority must be safe as part of the hunting.
back to menu ↑
What Colour Tent is Best for Day Events?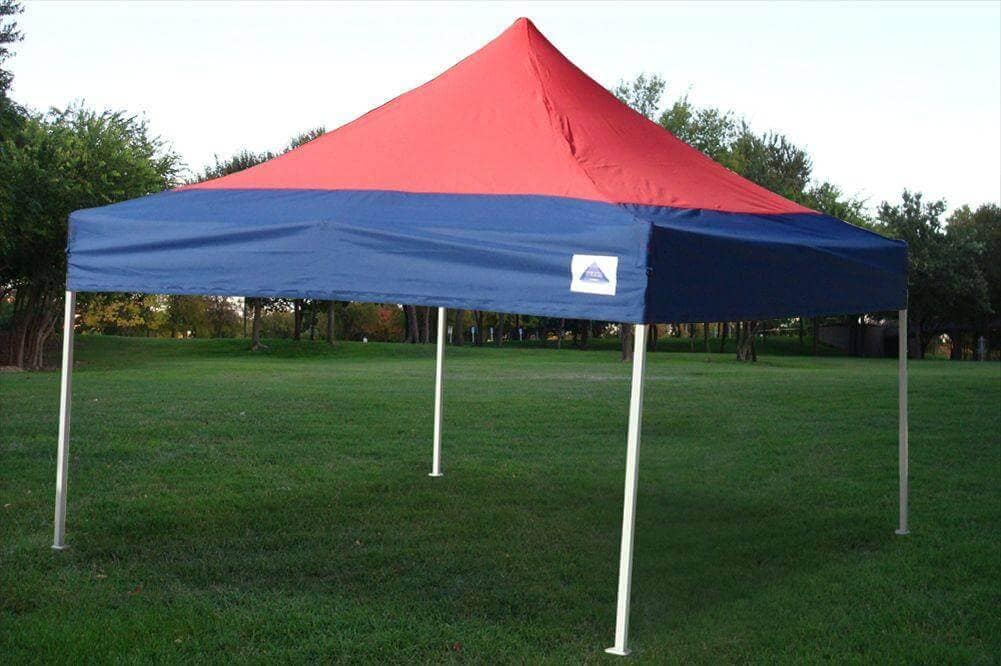 As we have mentioned earlier, white tents are highly reflective of the sunlight. But, it's difficult to find from a long distance. For this reason, an unusual colour pattern is used for the day event tents. The day event tents should be in the combination of two colours.
People love to pick the combination of red and blue. These colours are more protective from UV than white colour. But, they can't reflect the sunlight to keep the tent interior cool. However, day events need an eye-catchy tent and this colour combination is the perfect one.
back to menu ↑
Conclusive Verdict
Your main question was "What colour tent is coolest in hot weather?". Hopefully, your confusion has disappeared about finding a suitable colour tent for hot weather. There must be no confusion of picking according to the temperature of the desired area.
If you're going to camp in hot weather, the white tent is the best pick. Despite its limitations, it's the best one if you'll stay in a safer place. White tents will protect the inside of your tent from heating. Besides, silver-coloured canopy tents are UV and heat resistant. So, a white colour tent or silver colour canopy tent is coolest in the hot weather.
Also if you want to get more tips and hacks on this, as well as how to keep cool when camping in the heat, can watch this video.