Camping is an exhilarating outdoor activity. You simply cannot go on for days without having any food or drink. When hitting the offroad to visit the outskirts of the city or stay on any camping ground, most campers prefer to cook their food using natural firewood.
People tend to rely on campfires more than anything. What if there is a mishap and you don't have access to fire, thus land in a situation of starvation? Well, this is where the single-burner propane camp stove comes into work.
Single burner propane camp stoves are the best option for you to perform any kind of cooking on the go. They are ideal for campers. You can make yourself a coffee, heat your food or make something delicious in a fast and easy way.
To make your journey enjoyable, we present the 10 best single burner propane camp stoves in the market.
Best Single Burner Propane Stoves
back to menu ↑
1. Gas ONE Propane or Butane Stove GS-3400P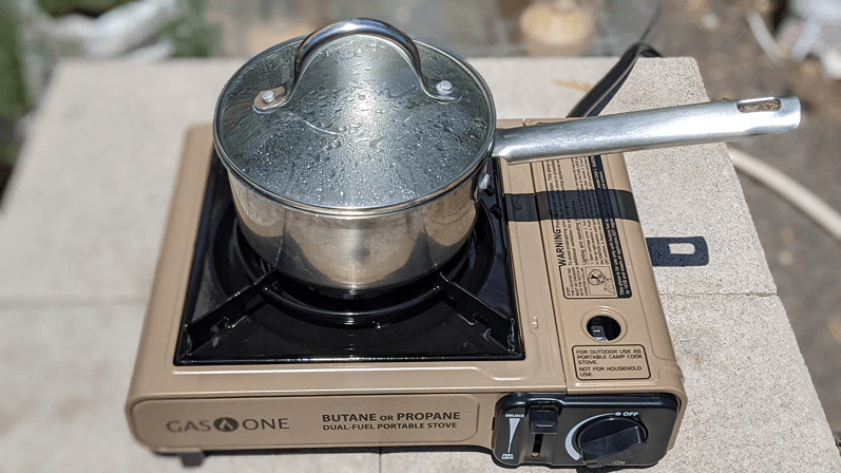 We simply cannot get away from GasOne stoves. Simply we can say this one is the best single propane burner camp stove manufacturer company and therefore made their way into our review list. The GS3400P is a stove that is pleasing to the eye right out of the box. The gold finish makes it a sleek-looking stove.
This unit is best suited for tailgating, outdoor cooking or camping. With a dimension of 13.4×11.2×4.4 inches, this is one portable unit to have on your camping site. In case of no campfires, you can always seek help from this excellent stove that runs on both propane and butane, adding to your convenience.
Use a butane cartridge or a propane cylinder and you are good to go. The usability is pretty safe and sound as well. It comes with an auto-ignition system, thus you don't need to use a match or lighter. It has an adjustable heat regulator, allowing you to control the heating power.
The safety feature of this product is stacked. It has an auto ejection system that will stop the stove if any irregular pressure runs through it. The Automatic shut-off system gives you the utmost safety.
Pros
– For a wide range of use
– Portable
– Safe
– Adjustable power option
– Ease of use
– Runs on butane or propane
– Comes with a carrying case
Cons
– The regulator could have been better
– Beware of leaks
back to menu ↑
2. Coleman Portable Butane Stove with Carrying Case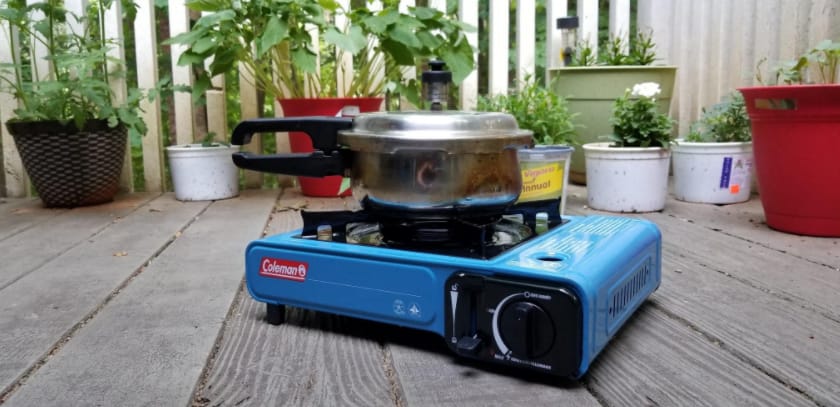 Coleman has been leading the industry for a long time. Their products are well-acknowledged by people all around the world. If you are looking for a portable camp stove, this product has to be your pick. First and foremost, we trust this brand. We have tested a lot of burners, but none like the Coleman products.
The size of this item is 20x12x4 inches and weighs up to 4.6 pounds, which gives you the flexibility to take it on your camping trip. The sleek blue finish makes it an eye-catching stove. Talking about cooking power, this portable stove boasts decent enough heat with 7650 BTU.
Don't expect to stack a mammoth or heavy pan on it. This stove is suitable for on-the-go cooking, such as camping or hiking, but not for large projects. It will accommodate up to 10-inch pans. If you use a butane cylinder of 8.8 oz, then this stove will run for about 1.2 hours on a high setting.
The adjustable temperature control will give you control over the heating capacity. Set it to low, medium, high, the way you want your food to cook. The grate is coated with porcelain coating and the burner is crafted with aluminum. These features make this stove long-lasting and rustproof.
Pros
– Comes with a 1-year warranty
– It is easy to carry around
– Autoignition mode
– Adjustable temperature
– Sufficient cooking power
– Long-lasting
– Rustproof
– Lightweight
– Affordable
Cons
– Minor complaints about unsteadiness
back to menu ↑
3. Gas ONE GS-3900P-Single Burner Propane Stove GasOne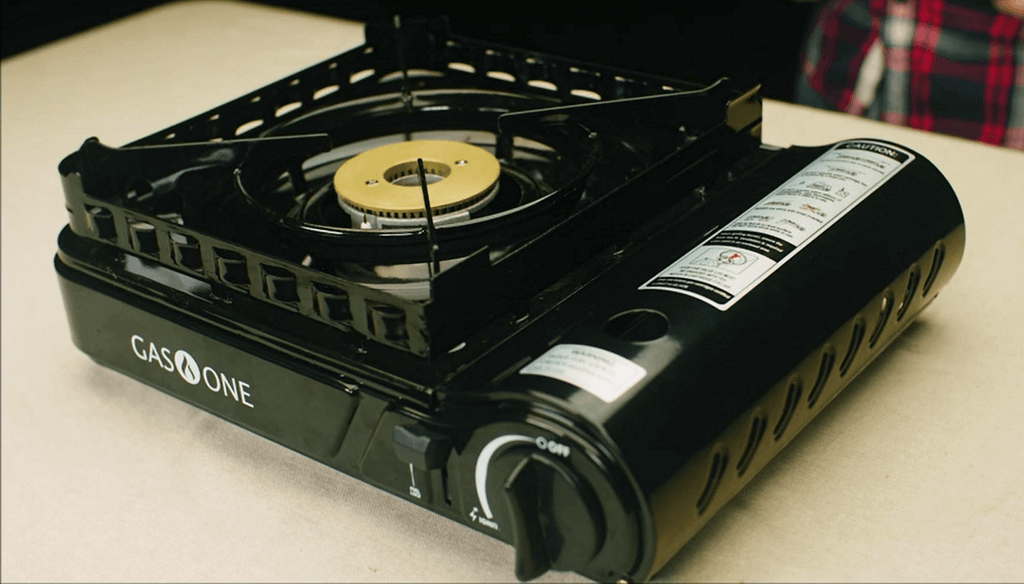 GasOne never ceases to amaze us with their stoves. The GS 3900P is one of a kind of stove that can be worked with Propane or Butane. You've seen it right, it is a dual fuel burner that gives you the edge over any other cooking gear.
With a dimension of 13x10x4 inches, this gas stove is very portable and you can carry it easily on your camping endeavors. When you don't have access to fire, let this GasONe stove work magic for you. The 15000 BTU heating capacity makes it one of the powerful propane camp stoves.
You don't need a lighter or match to ignite the fire. The electrical ignition on this unit can safely start a fire. The ease of use is what's commendable here, the adjustable regulator and autoignition give you a fast and reliable cooking experience.
Not all burners are safe, but this product is special and boasts utmost safety. There is an inbuilt cartridge system, automatic shut-off mechanism, thermal conductivity plate to add to its safety features. The good thing about it is that it can withstand windy situations and give you an unhindered cooking experience. The 4-way wind blocker shields the stove from winds.
The pan support on this unit is versatile, you can put on small tea kettles as well as medium cookwares. You will get a sturdy carrying case with it for your convenience.
Pros
– Powerful heating range
– Easy to carry
– Easy to carry
– Compatible with dual fuel
– Adjustable regulator
– No need for matches or lighters
– Loads of safety features
– Sleek looking gas stove
Cons
– Bronze nozzle is not up to the mark – Fragile hose
back to menu ↑
4. GasOne 200, 000 BTU Square Heavy- Duty Single Burner Outdoor Stove
GasOne has come up with a heavy-duty single burner stove that is suitable for camping needs. The B5450 has worked its way amongst the best single burner propane gas stove. If you have a little bit of space on your camper, you can accommodate this high-quality stove.
The dimension of the item is 15.5×15.5×12 inches, this allows you to carry the burner in any kind of camping vehicle. GasOne B5450 is constructed of top-grade materials, like the cast iron metal frame on it. Sturdy metal construction makes it rigid and long-lasting.
It comes with a fully adjustable regulator knob, thus you can set the intensity of the fire the way you like. This product has a stellar heating capacity of 2000,000 BTU. You can go for brewing, seafood boiling, chicken frying, and tons of delicious foods with this.
With the package, you will get an intertwined steel hose, an O ring to ensure no gas leakage, an air controller plate, and a propane burner. We like this unit for its hardwearing feature and the ability to incorporate different heating variations. Simply give it a go and we assure you that you won't be disappointed.
Pros
– Safe to operate
– High-quality materials
– Rigid and sturdy
– Portability
– High heating capacity
– Good for multiple applications
Cons
– Some complaints about misaligned legs
– No warranty
back to menu ↑
5. Camplux Dual Fuel Camping Stove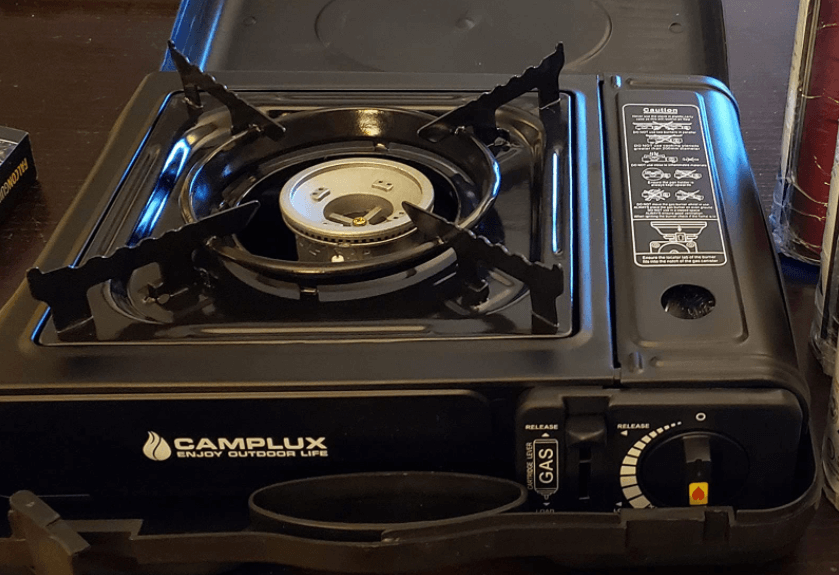 This is one camping stove that caught our attention when we first saw it. After trying it out, we can assure you that it is one of the best buys when it comes to single burner camp stoves. Complex made sure that your camping, hiking or backyard occasions are enjoyable through and throughout.
This unit has a windshield to protect the flame from blowing out during windy weather. There is a gas canister lock that allows you to secure the cylinder for better performance. The safety features are also commendable. It has an auto-shutoff system that will cut off the line if any overpressure is detected.
The auto-ignition is what makes this unit stand out. You don't need the likes of a match or lighter to ignite the fire. You can add butane or propane fuel with this stove, allowing you to work in different conditions and give you better accessibility.
In case of heat output, you will get about 7200 BTU power with this stove. It is a good emergency stove for the home, best for outdoor camping, RV voyage, etc.
Pros
– Easy to use
– Simple cleaning procedure
– Runs on dual fuel
– Tweakable heating power
– Works during windy weather
– Safe to work with
– Includes a carrying case
– Low priced
Cons
– Fuel valve design is poorly designed
– Check out for defective hose
back to menu ↑
6. Camp Chef Pro 30 Single Burner Stove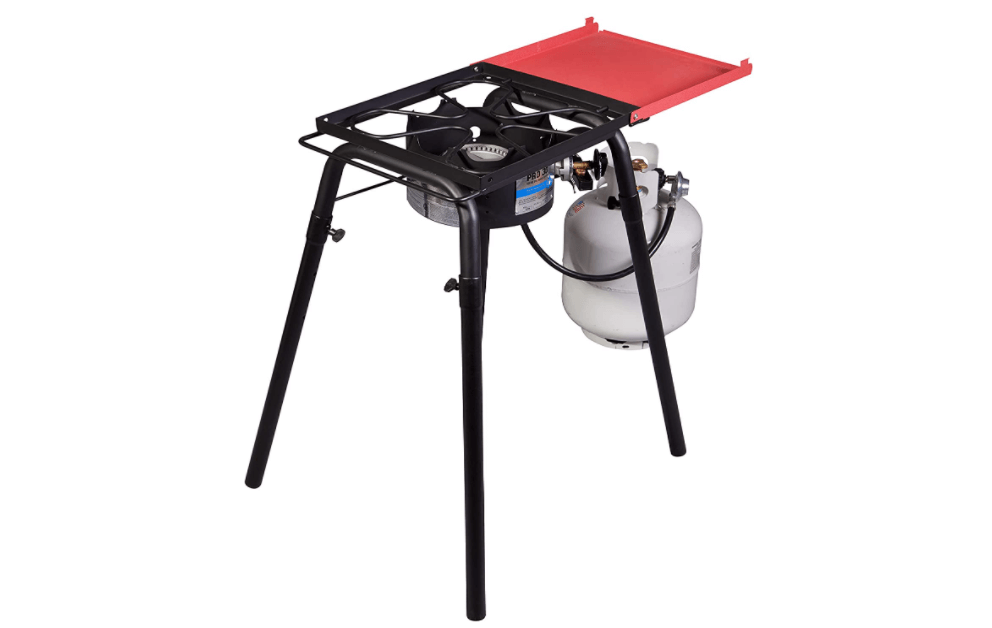 Get ready to work as a master cooker. If you have the Camp Chef Pro 30 with you, you are in good hands. It is one of the best-rated camp stoves you will find in the market. It is powered by propane and runs on liquified petroleum gas. The dimension of this stove is around 23.5x10x15.5 inches.
Having it on your campsite will give you easy access to cooking. You can work with it by standing in a comfortable position. The setup is very flexible and this unit is easy to store as well. It comes with adjustable legs, so you can tweak and easily install it on the move.
We like the foldable shelf option. It gives you more space to keep your cooking belongings. It comes with a regulator that gives you the option to control the fire intensity. There is a hose included to run the petroleum gas straight to the stove.
The built quality is what catches our eyes. It is made of cast iron which makes it very strong when put to action. The output capacity of the burning power is adequate to suffice any cooking needs. With 30000 BTU it is one of the finest stoves you will get.
Pros
– Portable option with detachable legs
– Rust resistant
– Made of quality materials
– Works with 14-inch camp cooking accessories
– Adjustable temperature
– Powerful heating unit
Cons
– Expensive
– No auto ignition
back to menu ↑
7. Coleman Gas Stove | Portable Bottle-top Propane Camp Stove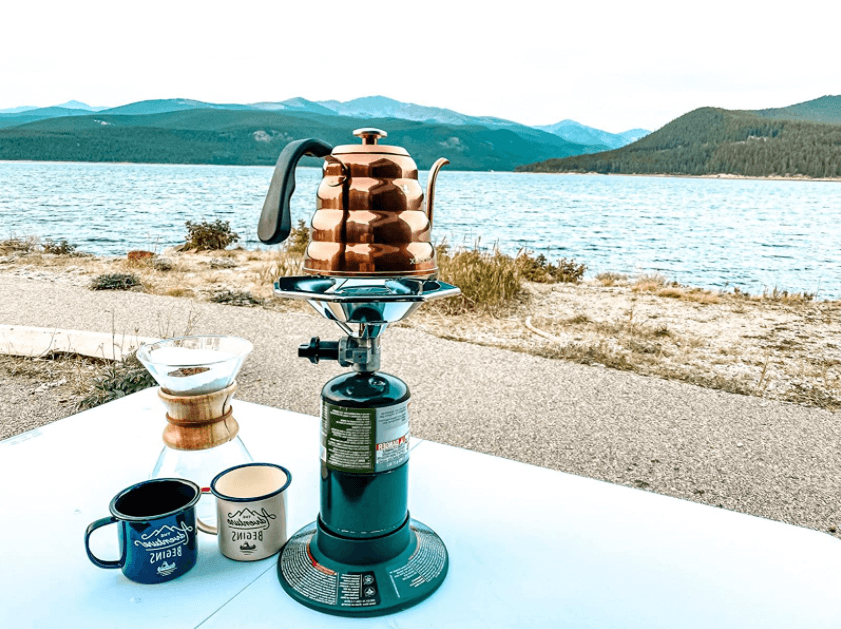 If you are looking for a compact stove for camping, then the Coleman Bottle top propane camp stove is a good choice. Coleman as a brand certainly knows what they are doing in terms of quality. This unit is for people who love to brew coffee, heat water, and cook on camping sites.
Good coffee can provide you with rejuvenation. Having a compact and portable device like this one is ideal for any person. With a dimension of 7.75×7.75×6.5 inches, you can carry this stove along with you no matter what.
A cooking power of 10,000 BTU is adequate for cooking needs. The adjustable pressure regulator gives you the upper hand over it. You can adjust the temperature rate even during harsh weather, it will still work like magic.
It also shields the wind and provides maximum heat at all times. The bottom half of the burner is easy to separate. The burner and the canister can be detached and stored conveniently. This unit can run up to 2.5 hours on a 16.4-ounce propane cylinder.
Pros
– Compact
– Lightweight
– Decent heating power
– Shields wind while in use
– Adjustable regulator
– Portable design
– Lightweight
– 3 years warranty
Cons
– Might leak gas from the knob
– Made in China
back to menu ↑
8. Coleman PowerPack Propane Stove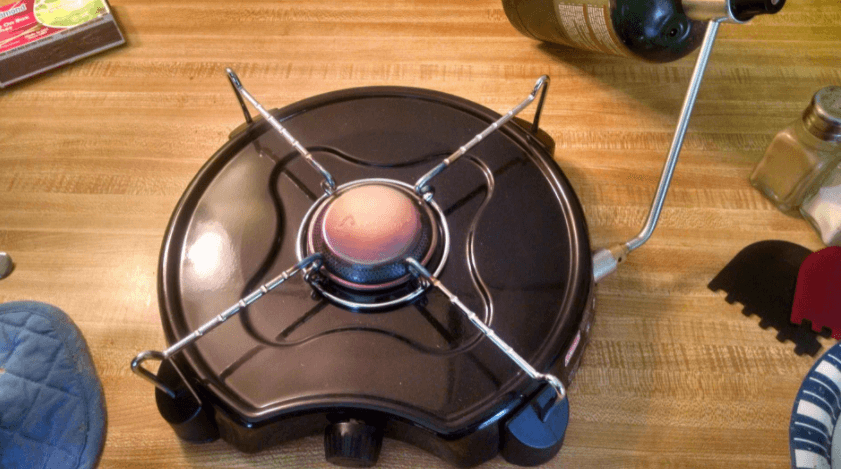 The Coleman PowerPack Propane Stove is another lightweight and flexible product for camping needs. While camping, you don't want to be using a heavy instrument. Go with the Coleman PowerPack, it is lightweight and packs a punch.
It has a spacious cooking surface that can fit up to a 12-inch pan base. This item can run up to 7500 BTU of cooking power, suitable for most cooking tasks. Simply turn the pressure knob and adjust the heat as you like. Being on the smaller side compared to conventional stoves, you will find it very easy to use.
If you go on a backpacking tour, outdoor parties and such activities, this stove can give you the run for the money. It might not be the stylish stove of the lot, but it does an excellent cooking job. It will last you 3 hours straight on a 16.4oz propane cylinder.
Pros
– Stove for different occasion
– Long-lasting
– Larger base
– Adjustable burner
– Durable chrome grate
– Sufficient cooking power
– 3-year limited warranty
– Value for money
Cons
– The bottom feet come loose
back to menu ↑
9. Homewell Camping Stove Outdoor Gas Propane Cooker
If you are looking for a cooker that has a raised-up height option, this Momewell stove is a good pick. You can adjust the height of the stove in two parts. This is one portable unit that you can carry around in your adventures.
The framing is very sturdy, thus it can accommodate large pots. The legs are detachable and you can easily store this unit for your convenience. It comes with a weatherproof cover to shield it from unwanted natural hazards.
As for the heating power, it can bump up to 18000 BTU of heating capacity. The burners are made of cast iron, therefore, it is durable and good for evenly distributed heat. It has a functional and adjustable regulator that allows you to work with different heat.
No matter if you are standing or sitting while cooking, you can always adjust the height of this Homewell cooker. Saute your dishes, grill some meat, make coffee, boil water, you can perform a variety of cooking with this product.
Pros
– Adjustable height
– Lightweight design
– Portable stove
– Safe function
– High heating capacity
– Can handle a variety of cooking tasks
– Solid construction
– Weather protection
– Easy maintenance
Cons
– The regulator can be wobbly at times
– Might wear after extensive use
back to menu ↑
10. Jetboil Sumo Camping and Backpacking Stove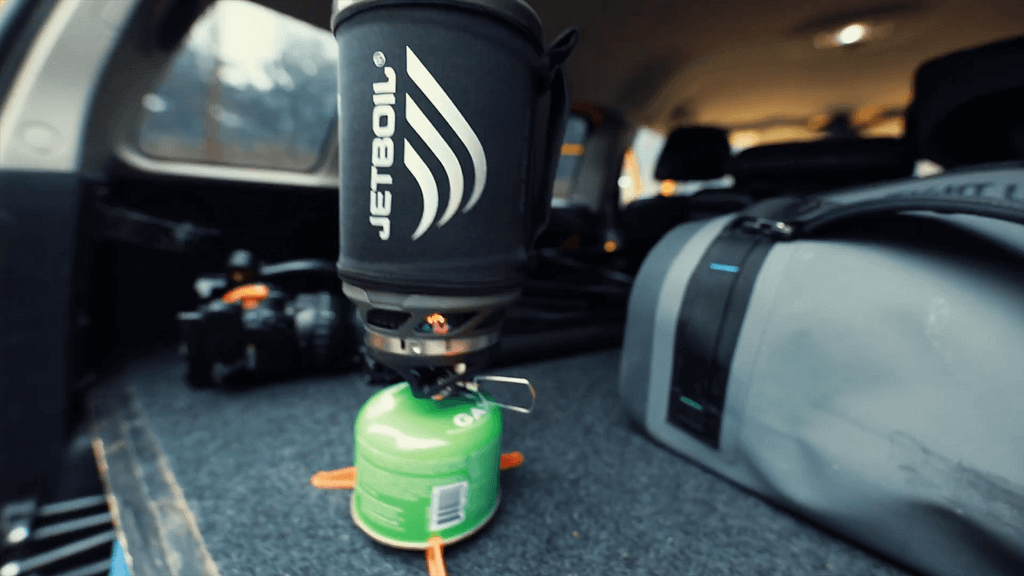 Do you get tired too often while hiking? Have a Jetboil Sumo stove with you to make things easier on the go. Heat water, make coffee while you take a break. This item is one portable unit that you don't want to miss out on. It has a 1.8-liter flux ring cooking system to ensure you don't fall short while serving.
The regulator system makes sure that you get different kinds of heating modes, from mild simmer to high heat. This item can produce all the goods. There is a push-button ignition that allows you to light up the fire in a flash.
The good thing is that it is regulated so that it can work even during low temperatures. Not just heating liquids, you can remove the upper and add pans on the pot support to make meals.
We are in awe of the JetBoil unit because of its functionality and ease of use. It is versatile and well suited for adventurous people.
Pros
– Adjustable simmer rate
– Versatile for cooking and heating
– Easy to use
– Convenient storage
– Functions during cold weather
– Good enough heating source
– Lightweight
– Great camping equipment
– 1-year warranty
Cons
– Plastic on the metal part melts quickly
back to menu ↑
Buying guide
Going on to purchase a single burner stove can be tricky. Many things are attributed to the best single-burner propane camp stove. Let's look at some features that must be considered to get the best out of your camp stove.
back to menu ↑
Stove design
You will find stoves that are free-standing like the ones by Camp Chef. In terms of free-standing ones, make sure the legs are detachable and adjustable so that you can work with different heights. Tabletop designs are more common and widely used by campers. You can check out the GasOne products on our list for portable units. Grab a product that complements your demands.
back to menu ↑
Number of burners
The most common is the two-burner units. You can see it in the kitchen. You will also find 3 burner options, but this article is about 1 burner gas stove. 1 burner stoves are best suited for camping needs. It gives you the option to carry it easily due to its compact dimension. For the best single burner propane camp stoves, check out the review section above.
back to menu ↑
BTU (Burner power)
It is a unit to measure the output of the burner. The more the BTU the better and stronger the cooking power. You can work with lower BTU, there is no problem with it, but it won't be enough to serve large meals at a faster time. For around 8000 BTU, you can look for Coleman Portable Butane Stove. It is advised you go for more than 20000 BTU if you are camping with a big group. Check out the CampChef unit above, it has about 30,000 BTU.
back to menu ↑
Fuel Type
It is best if the stove is compatible with dual fuel options. In such cases, stoves will be able to operate on propane or butane, depending on what's available. Having a dual fuel type gives you more options to work it out. Check out the Gas ONE GS-3900P, it can work with propane as well as butane. If you are going with single fuel type stoves, make sure you carry an extra cylinder or canister with you.
back to menu ↑
Adjustable regulator
All the products we enlisted in this article have adjustable regulators. Why is it important? Simply because you can adjust the rate of heating by simply tweaking a knob. You can go from low simmer to high temperature fairly easily, so having an adjustable regulator on the stove is necessary.
back to menu ↑
Autoignition
We prefer stoves that have auto-ignition. These are easy to use and fairly safe compared to those that need an external match to light it up. They are fast to startup as well. Dealing with matches and lighters can hamper safety in some way. Better opt for auto stoves like GasOne models in the ist above.
back to menu ↑
Size and weight
Weight and size matter for a stove when it comes to camping. It's not like you will be placing it in your kitchen and not move it for a while. If you are camping, you better pick something compact so that it can be moved easily. Something lightweight is preferred to make things easy for you. Check out the Coleman camp stoves from the list above. There are some excellent stoves for camping requirements.
back to menu ↑
FAQ
back to menu ↑
What is a propane burner?
In simple words, it is a device that produces controlled fire with the use of external gas such as propane.
back to menu ↑
Why use a single burner propane camp stove?
Propane is less expensive compared to other fuel sources. Single propane burners are usually compact and can be moved easily. Propane stoves work even at low temperatures and have sufficient heating power.
back to menu ↑
How much propane do you need to cook while camping?
It depends on your work rate. Most campers use about 0.5 pounds of propane during camping. So you can opt for multiple single-pounder propane cylinders.
back to menu ↑
What are the ways to light a one-burner camp stove?
There are many ways to ignite a stove. Your stove can have auto-ignition (ignites after tweaking the regulator). Push-button ignition or simple manual ignition that needs a lighter/match.
back to menu ↑
What are the best brands for single burner propane stoves?
You will find numerous brands on the market when it comes to propane burners. The best brands, according to us, are GasOne, Coleman, Camplux. These are some of the top brands that make excellent stoves.
back to menu ↑
Can a single burner propane stove be used indoors?
You can use a propane stove indoors, there should be no problem. You must take basic safety precautions while dealing with propane burners. Always have enough ventilation around you when using a propane burner.
back to menu ↑
Final Verdict
We have seen many adventurous people wander around looking for the best gas stoves. Therefore we planned to come up with this article that talks about the best single burner gas stove for camping.
If you have gone through this article, now you know about some of the pristine products on the market. We want you to cook with comfort and make your dishes scrumptious no matter where you are.
We rate GasOne and Coleman stoves very highly. These are trustworthy brands with top-tier products. Don't forget to check out the rest of the list. Hurry up! Get on with it and cook some delicious food while exploring nature.