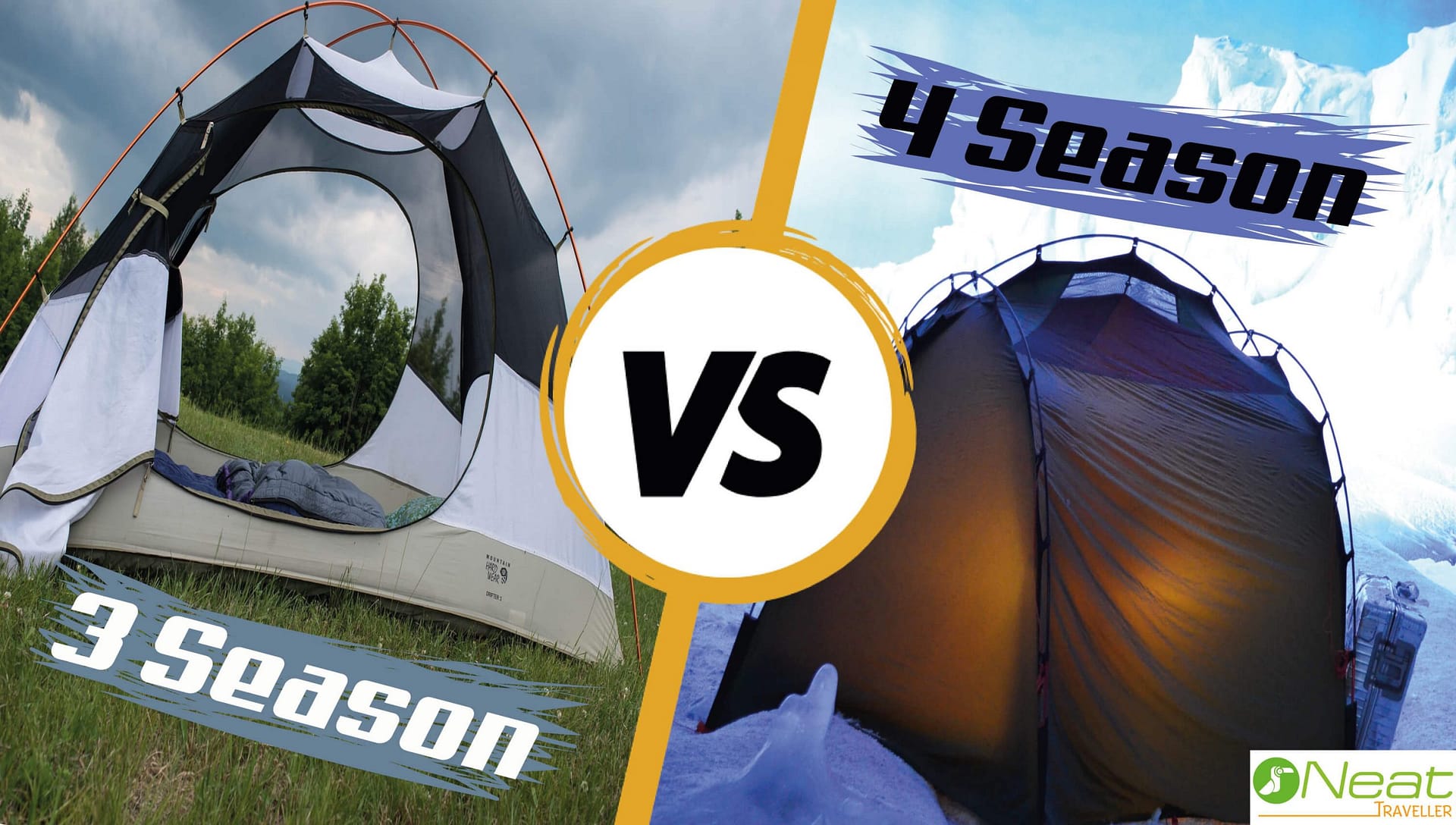 Most people have the tendency to enjoy camping in the summertime. But, there are also many people who love to adventure in the sheer winter. If you're a camping enthusiast even in wintertime and brave enough to go outside in deep cold weather, then you will surely like to invest in a 4 season tent.
But, what exactly is a 4-season-tent? Well, we'll discuss it.
What is a 4 Season Tent?
4-season-tent are usually heavy-duty tents. They're basically organized to withstand even in the coldest moments. 4 Season Tent has the capability to resist the heavy snowfall, harsh winter winds. These types of tents are usually double-walled. So, they can keep the warmth in the winter. However, they are light enough to use on summer days.
They are not as proficient as specialized tents. Hence, they are still very much suitable for individuals who are seeking to camp during all four seasons. Four-season tents are practically much heavier than the most usual tents. It's not surprising at all. However, with insulation technology, you can use it in winter as well as in the summer. Moreover, these tents are also quite large. People who sleep in these tents are mostly packed up in layers. As a result, the tents have to be large.
The best option we think is a K2 XT 2-3 person tent. This four-pole tent contains a small hallway. This hallway stores snowy gear. There's a window in this tent that will give light. But, adequate warmth will remain. This tent is humid. However, a good ventilation system can save you from such pain. This is a true four-season tent. Another good option is the Alpenlite XT 2 person tent. Among all the four-season tents, this is the lightest indeed. The setup is easy and it is convenient to use.
Do I Need One?
Four-season hotels offer various benefits and drawbacks. It's quite hard to choose. You have to choose wisely whether it will work for you or not. Yes, these tents work well both in summer and winter. However, they are still no match for specialist tents for various reasons.
The most worthwhile thing about a four-season tent is its versatility. These tents are so robust and can stand even in heavy winter. On the other hand, they're light enough to use on hot days. Most of the high-quality 4 season tents usually weigh around five pounds. Contrariwise, the cheaper options are heavier.
Further, the same-priced three-season tents are much feeble and easy to carry. Four-season tents get heavier on heated days. There's no doubt that the extra hole helps to pass the heated air. But, the problem is nylon doesn't puff well like a lightweight net.
Four-season tents are also unable to compete with specialized mountaineering tents. They have the capability to stand against snowy weather and strong wind. Elsewhere, they are unable to protect you in Mount Rigi Panorama Trail for a long time. The reason is four-season tents are comparatively weak and can't hold for a month.
Besides, four-season tents aren't sturdy enough for harsh windy storms or high altitudes. These tents also lack adequate spaces. During the cold season, extra layers are needed. But, it's not possible in four-season tents.
A four-season tent is a captivating option. However, it's not the right option at all. If you're looking for a trip to high mountains like the Arctic, then better skip this and go for mountaineering tents. On the other side, if you like to go on adventures frequently on summer days, then these tents won't give you a good feeling.
But, still, you can choose this. If you want to do winter camping, skiing, it will provide you with good service. Besides, you can also use it for mountaineering during summer. This can supply a better service in both conditions. Another thing is that an all-season tent will be a cheaper option while providing high-quality service.
Four-season tents are also a splendid choice for people who are seeking to camp in the mountains year-round. Mountains usually stay cold during hot summer days. Therefore, the presence of extra internment won't be a big problem for you. These tents can save your bucks while also being a space-saving angle. You won't find such versatility on other tents. This is the reason you can get a four-season tent.
Features of a 4 Season Tent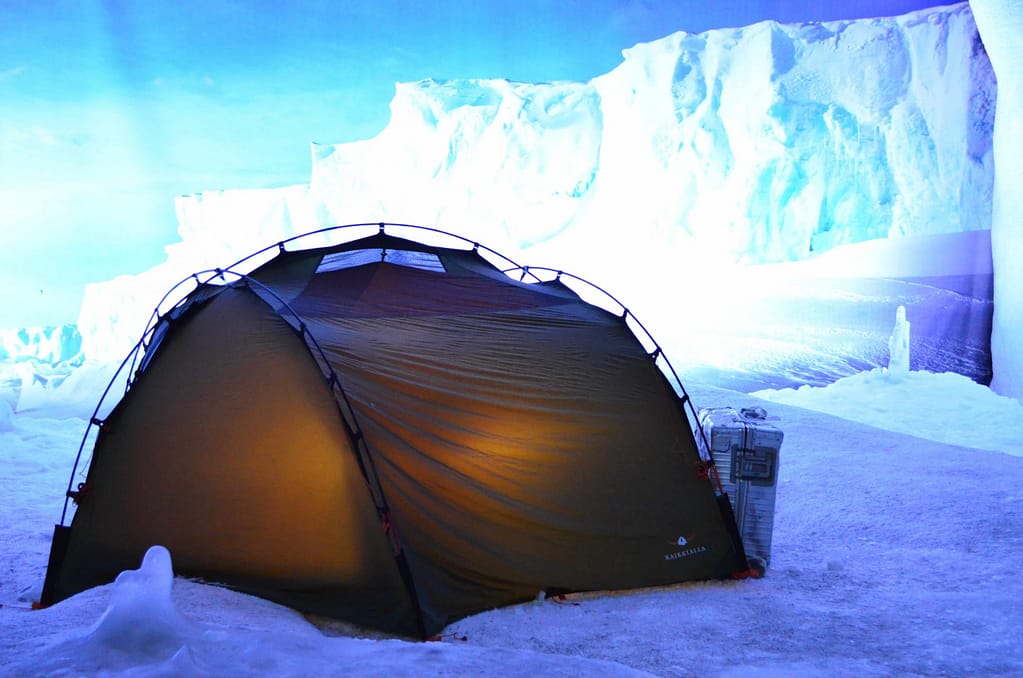 Here are the most common features of a 4 season tent. Let's see –
Sturdy
A Four-season tent uses several strong and sturdy poles. Those poles stay attached to a durable fabric. These features and its dome-type shape provide 4 season tents that stand well in heavy winter winds.
Heavy-duty Polyester Nylon Material
There are no mesh walls in the 4 season tent like the 3 seasons. In the 4 season tent, heavy-duty polyester nylon material has been used. The reason is nylon fabric can block out the wind and utilize the ventilation system in order to stop the amassing of the cold frost.
Vestibules
During the winter, it's pretty much convenient to track snow inside the tent. 4 season tents contain vestibules. These vestibules are important to supply a transition area in order to store gear(especially snow-covered gear) outward the main area of the shelter.
Less Ventilation
4 season tents are made of much solid, sturdy, and durable nylon fabric. There's no mesh panel like 3 season tents. As a result, the breathability is much less and it could make the inside place uncomfy warm.
Waterproof
Just like 3 season tents, 4 season tents are also fully water-proof. It is built with waterproof materials. The protected layers, covered zippers, strapping base helps this tent to keep out the water and snow.
Colorful Avatar
The 4 season tents manufacturers have the aptitude to build colorful tents. They usually made these tents in bright and bold colors. For these reasons, these winter tents can be easily located by the campers even in snowstorms or harsher weather.
The extra layers of protection are great in winter. But, the weight is comparatively heavy and it's uncomfy to carry it. Yes, you can partition it into several pieces and distribute it among the group, but it brings severe problems and hassle. It generally takes a huge time to set up and wrap up.
Moreover, it will be damn uncomfortable to use it during summertime. As the 4 season tent doesn't have any mesh walls, the heated wind doesn't get out easily and it can make your life miserable in June's extreme heated weather. On the other hand, if you want to choose a more lightweight version of this tent, it will cost you more.
Features to Consider Before Buying a 4 Season Tent
If you are completely sure that you're going to buy a 4 season tent, then you must do some math. You have to consider some important factors before doing this. Here, we're giving you some features that could help you to learn about it.
The first and foremost factor is obviously the capacity of a tent. Firstly, think about how much capacity a tent has and how many people it can house. Does it meet your needs? Some brands offer two-people tents while some offer three-people's.
Hence, there are few brands that offer "plus" tents that contain slightly more space than most brands. But, you have to know the dimensions. After that, compare the dimension of the tents of various brands. You can compare the measurements among different brands to get the right one for you.
You have to go a long way while you're out for an adventure. Therefore, manufacturers are trying to decrease the amount of weight from the tent. For this reason, they have to sacrifice some traits like durability or features. Sometimes, they offer less space to narrow the weight of the tent.
It's better you should learn what features you are ready to abandon or what traits you need the least? Find this out. However, there's a way. You can make it easily portable by distributing the carrying responsibility to all the group members. But, it could also be risky.
It doesn't matter whether you're a professional camper or just a beginner. You will always want a tent you can gather without a hassle. Nowadays, most companies are trying to make it easy. Furthermore, you will also want a tent that could easily pack up.
Many brands are starting color-coding poles for their tent. For this reason, it becomes so easy to find out where to join the clips, stand, etc. Thus, it just simplifies the whole task.
Tent materials usually come in various types of fabrics. Four-season tents normally use nylon-type fabrics. Nylon offers greater stability and durability. You can customarily calculate the durability of a material by its denier number. The number discloses to you how much 9,000 meters of that fabric makes an appearance of grams.
The Differences Between a 3 Season Tent and a 4 Season Tent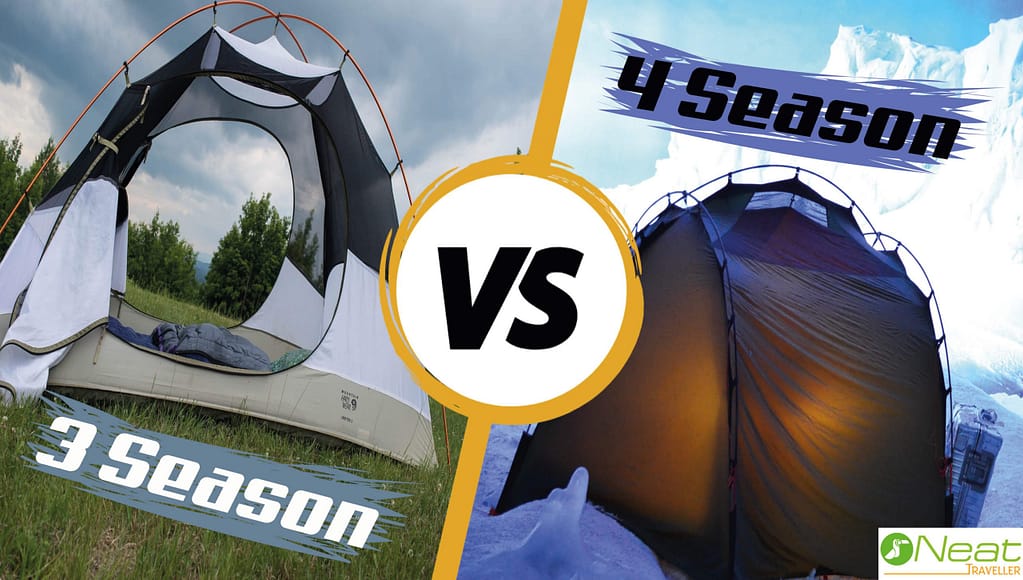 When you see both types of tents from the outside, you might think that both of them are similar. Actually, it's not. There's some constructive difference between these 2 types of tents. Here, we are going to talk about it –
Usually, people seem to like the 3 season tent more. It is lightweight and easy to carry. Moreover, they are designed for use in moderate conditions like spring, fall, and summer. They can't shelter you in the heavy stormwinds or snowy weather. These tents are properly pitched with a tightly stretched rainfly.
3 season tents can safeguard you from light rain or winter. However, they are not reliable in heavy snow or harsh winter storms. They are typically made to be safe from rain and snow. Not more than this. 3 season tents are made from meshy walls. The build is typically arranged to supply a significant amount of ventilation. All you need to do is open the meshy walls and then you can see the flow of air.
Furthermore, the vestibules will typically sit off the ground to allow air to pass.
On the other hand, the 4 season tents are usually used for winter. Yes, you could also use it in the summertime, but it will bring you more misery than comfort. We've already discussed that 4 season tents are manufactured from nylon. They don't pass the airflow like meshy walls of 3 season tents.
Hence, nylon is a heavy-duty polyester material. They can provide much durability and they are highly sturdy material. As a result, they can block the gusty wind productively. These tents can safeguard you from heavy rainstorms or snow. The rain fly or vestibules repeatedly extend completely to the ground. The design is more robust and uses aluminum material. Besides, the full fabric sleeves are used to enhance strength and longevity. They probably feature high-angle walls that ban snow from bundling up and keep the tent from blowing away in the blustery wind.
Further, these tents usually weigh between 8 to 16 pounds. Elsewhere, in recent times, most brands already reduce the weight and transform them into 5-6 pounds. But, they had to sacrifice some features and durability to decrease the weight.
The three-season tent is known as a "backpacking tent" while the four-season tent is called an "extreme-weather tent" among the adventurers. Generally, 3 season tents are made to withstand usual weather like – snow, rain, wind, and some cold weather.
On the other hand, things are pretty much different for a 4 season tent. They are manufactured to counteract against brutal windstorms, heavy snowfall, deep colds, blowing sand, etc. In a word, a 4 season tent is typically made to take it all. This is kinda everything in one. On the other side, the 3 season tent is designed to be as lightweight as possible. Things are pretty much different in both tents. However, both of the tents sacrificed strength, features, etc.
Some Key Differences
We've already discussed the difference between 3 season and 4 season tents. Now, we are going to discuss some key differences between these two types of tents. Hope, it will help you to understand more easily.
4 season tents are not as lightweight as 3 season tents. It is pretty heavier than the latter. The weight of a 4 season tent is higher than its counterpart.
Four-season tents have high slanted sides and more vigorous post development
The ventilation system of 4 season tents are moderately well than 3 season tents
3 season tents are made for general weather whilst the 4 season tents are constructed for an extreme level of weather
The materials of 3 season tents are light. Hence, the components of 4 season tents are relatively stiff.
The setup and pack-up process is quite easy for 3 season tents.
How To Decide Between a 3 season or 4 season tent?
It's actually pretty much typical to decide. In some places, you can use a 3 season tent while some places are more suitable for the 4 seasons. It depends on various factors. If you are living in a moderate weather place, then you should go for a 3 season tent. It can manage various types of weather like light rain, snow, cold, etc. If you're not camping in the cold or gusty winds, then you can unambiguously choose the 3 season tent. It is lightweight, portable, easy to use, and cheaper.
On the other hand, if you want more strength, stability, and warmth then you should go for a 4 season tent. If you and your pals make a decision to camp in cold places like Alaska or Manali, then it would be the best decision to go for a 4 season tent. This tent has the capability to withstand even in coldest weather like heavy snowstorms, brutal wind. The main reason is that its components are much more durable and resistant. The angled shape, outer and inner structure, etc. are another reason behind this scenario.
If you are going to camp for the first time, then take some advice from the professionals. However, we can tell that 4 season tents will be perfect for novice campers. The reason is if they experience bad weather, it could affect their body and mind. But, the pro can use a 3 season tent as they already have plenty of experience in camping.
Final Words
Camping and choosing a perfect tent is actually not a matter of a joke. Wherever you live, what kind of tents you like the most, there's always a tent you can choose that will be suited for you. Such a tent can keep you warm, safe, and secure. You won't feel disgusted under it. We've tried our best to provide you with some vital information on it. We hope you'll get benefitted from our discussion and it will help you to find the right one for you. If you have any questions, you can do them in the comment box.