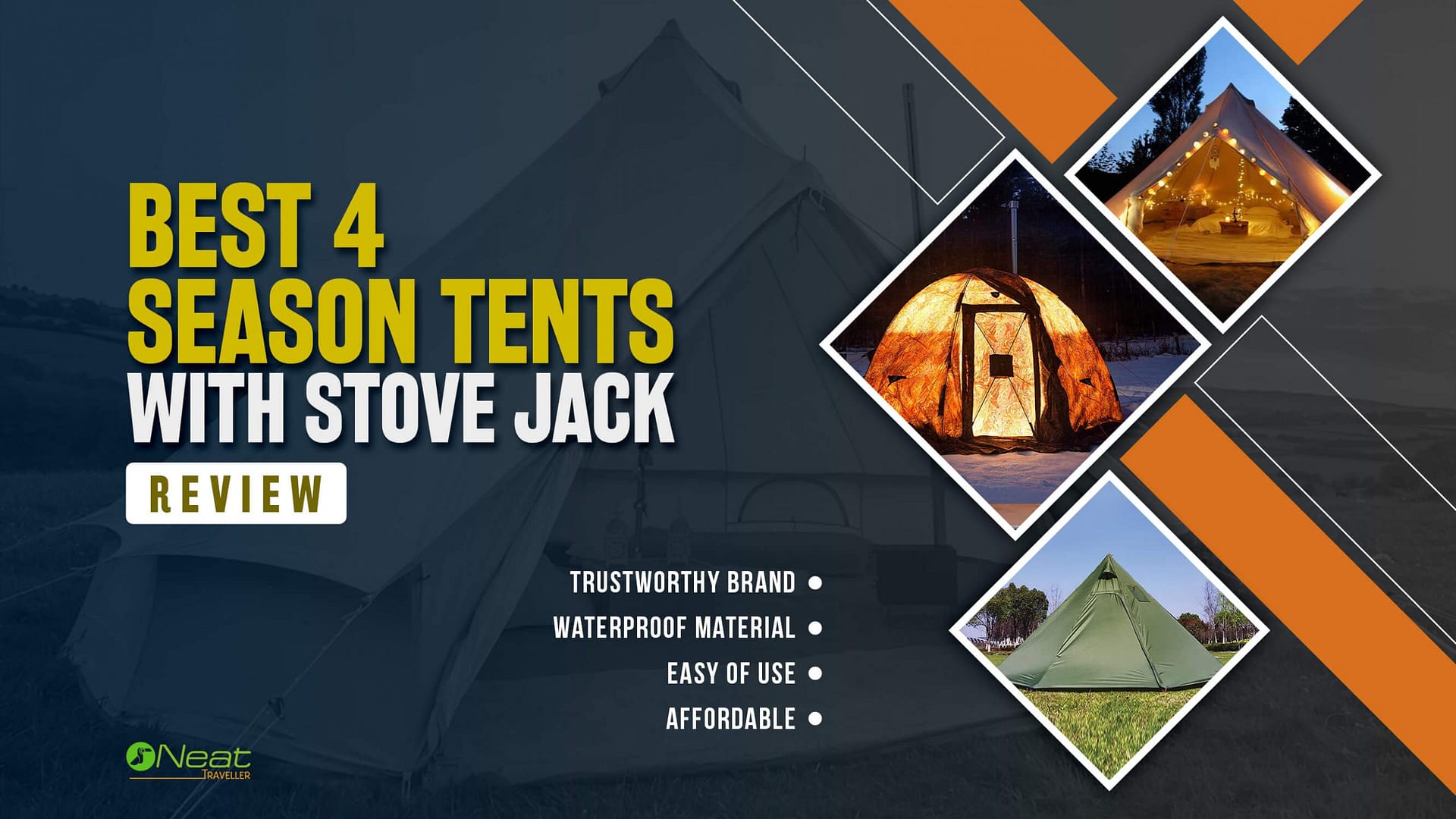 Have you ever gone camping and found yourself working on ways to set up a stove? If you have been through this problem, you are not alone. We assure you that the next time you go camping with friends, you will be well prepared to set up the cooking gear without unwanted hassle. Especially If you find it difficult to camp with a winter tent and set up a stove in it, I hope you find the solution through this article.
Most people try to set up the stoves outside the tent; in that process, they waste time and energy finding the ideal place and tools. What if the stove fitting is right inside your camping hut? Guess what, it is possible with the best 4 season tent with stove jack.
Having a stove fitting option on the tent is an advantage in many ways. It lets you stay inside the tent and cook with comfort. Keep away from extreme cold weather and other hazards and yet enjoy cooking sitting inside the hot tent in winter. We have come up with the 10 best 4 season tents with stove jacks to make your expedition a memorable one. 
Let's check the list of 10 best 4 season tents with stove jack
1. UNISTRENGH 4 Season Tent with Stove Jack
If you are looking for a luxurious tent that has every positive feature stacked up, the UNISTRENGH tent is there for you. If you are travelling in a group with 6 people or a few more, this particular product can fit numerous bodies.
The spacious room inside the canvas is mammoth. You can fit beds, tables and have a place for keeping belongings and yet find more room for movement. It has sufficient ventilation in terms of windows and fabric quality. The breathability is second to none.
Made of cotton that has been UV treated for better shielding. There are mesh coverings that allow substantial airflow. Inside this tent, you and your friends will not feel suffocated. There is enough room inside and the materials are such that they will enable adequate airflow inside and out.
UNISTRENGH is made of top-tier cotton fabric, which is water-resistant. Keep yourself dry in every season. Rainwater and waterlogging on the floor will not be able to reach you due to double-stitched seams.
The flooring is PVC material and keeps the groundwater at bay. Just like we said, your group will be dry and cozy even during the rainy season. The best thing about this tent is that it has an opening hole for stove fittings. If you have to cook, just set up the gears inside your tent and attach the exhaust pipes to the stove jack.
The stove jack is made of fire-resistant materials, so you are completely safe with it. Get this best tent and make your life easy.
Pros
– Comes with a stove jack
– Enough ventilation
– Made of durable cotton
– Waterproof
– Wind resistant
– Fits around 6-8 people inside
– Good for the money
Cons
– Complaints about missing parts
– Floor and guyline pegs are too small
back to menu ↑
2. RUSSIAN BEAR 3 Person Tent with Stove and Stove Jack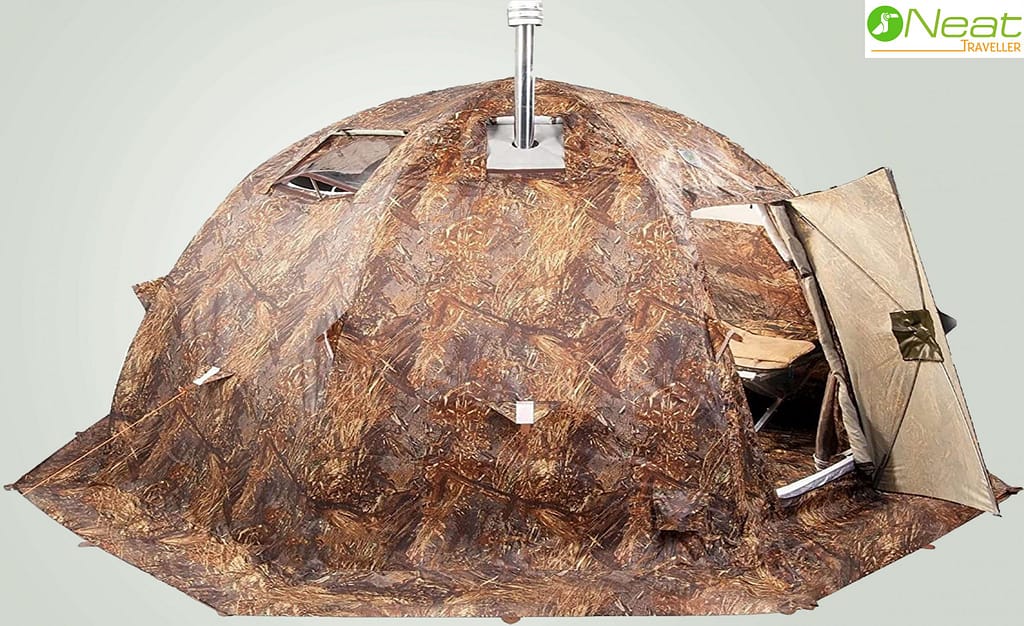 This unit from Russian Bear is an all-in-one kit suitable for campers, hikers, travel enthusiasts and more. Right out of the box, you will get a tent, stove and flooring. If you are looking for brand value and a good product, this has to be on your list of camping tents.
It is a 3-person tent meaning it fits 2 to 3 people and not more than that. For large capacities, you can check other items from the same manufacturer. The setup of this particular canvas is fast and simple. It is a pop-up tent, so you can take it anywhere and assemble it in no time. 
The umbrella design on this 3-person tent gives spacious accommodation for three people. This unit is one hell of tough camping gear. It can be used in different weather conditions. It doesn't matter if it rains or how cold or hot the weather is. This tent has the utmost protection to keep you safe and cozy. 
The double layering surface keeps you warm. You can unfasten the covering to allow some air in during hot weather. With top-tier materials in this tent, you get a waterproof and heat-resistant option. The interior of this model will be dry even during heavy rain.
The best thing about it is that you get a stove and fitting option. Cook your favorite meals right inside the tent and say no to the extra hassle. The stove itself is top quality, has ceramic glass and a protective shield for your convenience.
Tent materials are heat resistant, keeping you safe from unwanted fire issues. For a 3 person getaway, we recommend this tent.
Pros
– Spacious for 3 people
– Heat resistant
– Waterproof
– Made of top tier materials
– Reliable brand
– Comes with a stove and jack
– Good ventilation
– Easy assembly
– All-season tent
– It is worth the money
Cons
– Expensive compared to other brands
– Not for a big group
back to menu ↑
  3. RUSSIAN BEAR Hot Tent with Stove Pipe and Wood Stove
The name itself is intimidating. It does live up to the expectation; just a bear this tent is super strong in terms of dealing with unwanted hazards. If you are going for a camping trip or hiking with your friends, why not take the Russian Bear tent with you?
It is a pop-up tent that can be set up very quickly. If the weather is cold, this tent will give you the best shelter you have ever received. It is destined to keep you warm and cozy no matter the circumstances. This is an ideal tent for winter camping. As well as the interior is very spacious and will fit up to 5 people at ease. 
Put on air beds, mattresses, whatever you need, the compartment is large enough to embrace you all. It is an all-season tent, meaning you will not have to worry about weather conditions throughout the year. Be it hot or cold, this tent has your back. The double layering protection keeps you warm in cold weather. Remove the awnings and let some airflow inside the tent to keep you cool.
This tent has a chimney and stove that allows you to cook right inside the tent. You don't have to step out of the tent for any cooking task. Boil water, and coffee right by your living space. The fabric is heat resistant therefore, it's safe to work inside. The chimney is stainless steel, making sure nothing hot touches the surface, keeping you and your friends away from fire hazards.
Pros
– Large enough for 5 people
– Made of top-notch materials
– 4 season tent, suitable for hot climate and cold weather
– Comes with a stove and chimney
– Easy and fast setup
– Heat resistant, withstands up to 1200 degree heat
– Sealed external seams for better protection
– Wind and rainproof designe
back to menu ↑
4. DANCHEL Outdoor 4 Season Tent with Stove Jack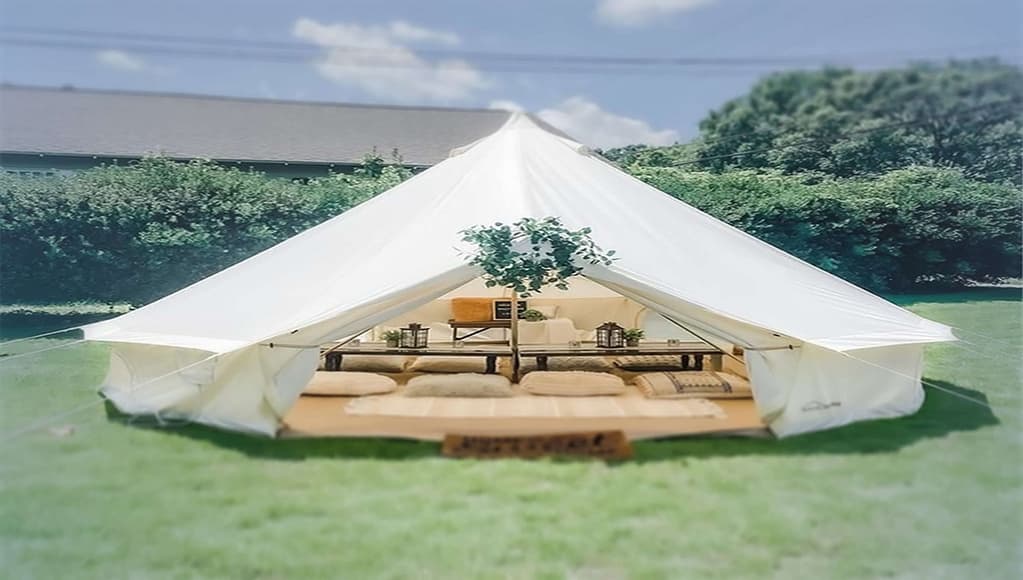 We are pleased to announce to you one excellent tent for a family gatherings, hiking, backyard events, festivals, and much more. This Danchel tent can accommodate 2 people at will. Large enough to fit a couple, their beds, and all other belongings. This is a tent that kids love to hand out and play in.
Moving on to the built quality- this tent is made of top-grade oxford fabric 900D. Oxford fabric is more durable and withstands weather better than cotton tents. It comes with a thick, durable protective groundsheet to keep away from water and insects.
The ventilation is second to none. 4 roof vents give you enough airflow inside the tent. There are 4 mesh windows to add to its breathability. You and your friends will not be feeling short of breath once inside the tent. Enough windows, vents and a large door are there to keep you comfy.
What's so good about this tent is that it comes with a stove jack. An opening on the sidewall to drain the exhaust air. This allows you to enjoy cooking inside the tent rather than trying out a different setup outside the living space.
The manufacturer made sure that this tent could run through different weather conditions. It is an all-season tent you don't want to miss out on. Each and everything about it is commendable and for a 2 person fitting, this is a wonderful option.
Pros
– Suitable for two people accommodation
– Stove jack for connecting stoves or air conditioning ducts
– Made of high-quality oxford fabric
– Adequate ventilation
– Numerous windows and roof opening for better airflow
– Best for multi-purpose activities
– 1-year quality warranty
Cons
– Some complaints about stove jack melting
– Leaks moisture
Can watch this…
back to menu ↑
5. RUSSIAN BEAR 5 Person Tent with Stove Jack
We have already talked about RussianBear tents throughout this article. If you want something reliable for your camping needs, then seek a Russian Bear. This is a 5 person tent we are talking about that has a stove jack fitted to make your outdoor experience much more relaxing and convenient.
Why pick this tent? Simply because you get an all-season tent in one package. More importantly, you will be able to cook right inside the tent during cold weather. You have seen it right. You now don't have to step out and get frozen during a cooking session. Take the stove in, line it up to the jack, chimney and you are good to go.
This particular model fits for 5 people. You can easily keep a mattress, air beds, bags, other belongings and yet have a lot of space to deal with. The protective materials are something we love. The built quality and components used are some of the finest to withstand wind, heat and water.
For campers, backpackers, and hunters, it is a viable selection. It is something that has decent structural protection to withstand weather hazards. Reliable customer service from the manufacturer. What else do you need?
It is easy to set up and takes just a few minutes to completely hook it up in a place. Cooking inside a tent is dangerous and if you have a durable and protective tent, it is good for you. Check out this product and you won't be disappointed.
Pros
– Spacious for 5 people
– Topnotch materials
– Withstands heat
– Resists wind and rainwater
– Good enough ventilation
– Durable and long-lasting option
– Comes with stove fitting for convenience
Cons
– Leaks water at times
– Zipperheads are not durable
Want to know more! Can watch this
back to menu ↑
6. WHITE DUCK Canvas Bell 4 Season Tent with Stove Jack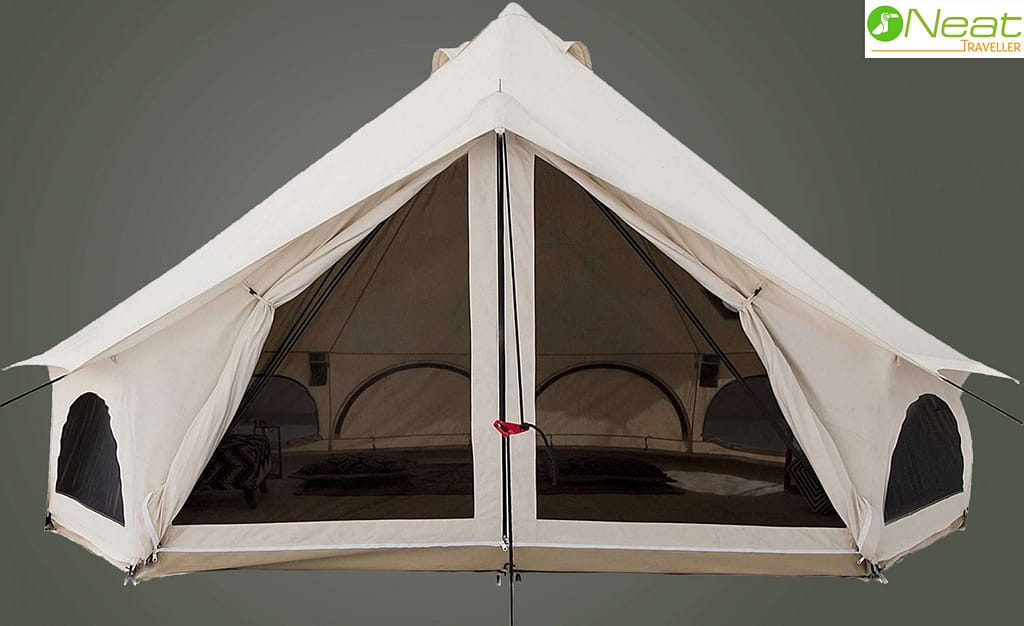 Gotta tell you that we like this tent. The outlook and overall functionality are what keep it here in the list of best 4 season tents with stove jack. Let's break down the features. This tent is made of top-notch components. Starting from the DYNADUCK fabric that is extremely durable and water-resistant.
The corners of the tent and the seams joints are stitched with great care and give added protection from water leaks and all. This tent has a rigid framing so that it can withstand heavy wind with ease. The galvanized steel poles make it a firm-standing tent.
What catches our attention is that it is fitted with a silicone-coated stove jack which can resist heat. Cooking inside the tent has never been easier until now. This canvas will allow a group of people to dine and enjoy their food in a comfortable environment.
You don't have to step out to set up the stove. Do it inside and you should be in safe hands. There are roof vents on this tent that keep away warm air and give you a cool and healthy airflow. 
This particular model comes with pole holders, organizers, guy ropes, elastic cord, rain caps and much more to give you a better experience while camping. People around the world have been using this particular brand for years and have had good experiences. So what's stopping you from buying one?
 Pros
– Comes with a silicone stove jack
– Adequate ventilation
– Water repellent fabric
– Hardwearing design
– Solid framing to withstand harsh weather
– Tension chord on the door flap for convenience
– Enough space for 6 people
– All-season tent, even good for low temp
– Essay assembly
Cons
– Minor complains about water leaks
– Might wobble a bit in heavy winds
back to menu ↑
7. HAPPYBUY Bell Tent Canvas for 5 People with Stove Jack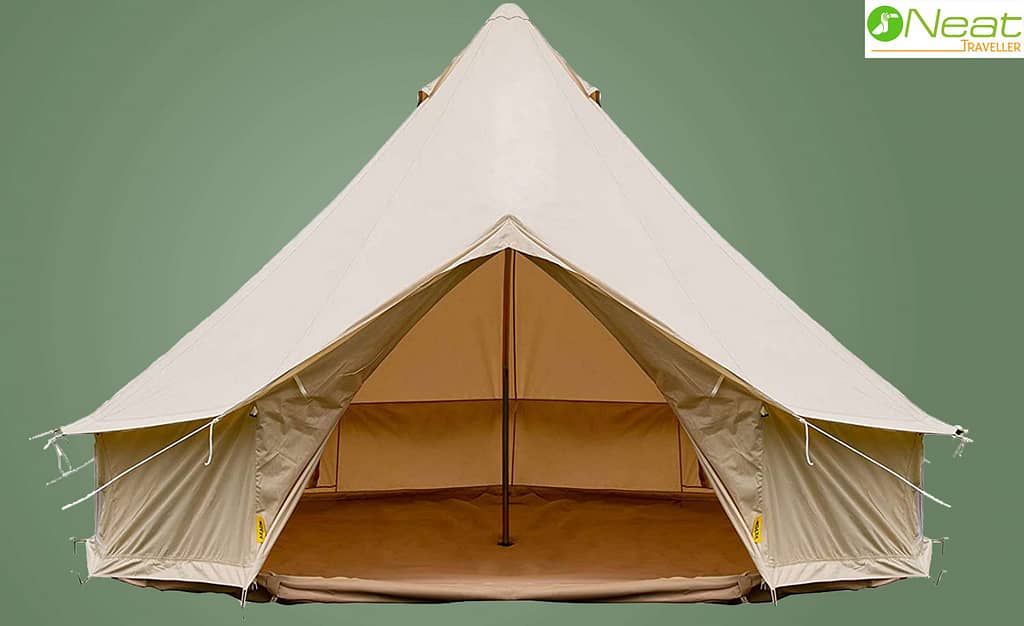 Are you looking for a tent that has a large capacity to accommodate 5 people? Check out the HappyBuy 5 people tent. It is one of the most compatible tents you will find on the market. The extra spacious interior will allow you to put in camping beds, mattresses, tables and much more. You will still have lots of free spaces for movement.
When it comes to ventilation, this particular tent has it all. Four large mesh windows ensure proper airflow. A screen door with a zipper makes sure you are away from insects and bugs. The interior seams are stitched taped so that they won't leak water. For smooth exhaust, there are 4 holes on the top.
There is this stove jack that can be covered and opened quickly and easily. It allows you to put a stove inside the tent and have the exhaust pipe take out the hot air from the stove. The heat won't trap inside the tent, it is made of cotton fabric that ensures breathability. The bottom is sealed with a PVC floor.
The structural integrity is second to none. It has steel poles for the stable framing. Rigid poles and rope nails make sure that they can withstand high winds and much more. We like this tent because it is spacious and comfortable to stay in unlike other tents.
If you are planning camping, we recommend you pick this product and have it with you. This will also allow you to have a great cooking experience even when you are inside the tent. High-quality materials have been used to make this tent, it won't deteriorate that easily.
Pros
– Large tent for 5 person
– Adequate ventilation
– Stove jack for cooking purpose
– Machine washable
– Made of 100% cotton
– Easy to carry and install
– Solid structure to withstand wind, rain, etc
– Good for the price
Cons
– Stove jack could be better
– Wears out after extensive use
back to menu ↑
8. DANCHEL 4 Season Yurt Bell Tent (5 People)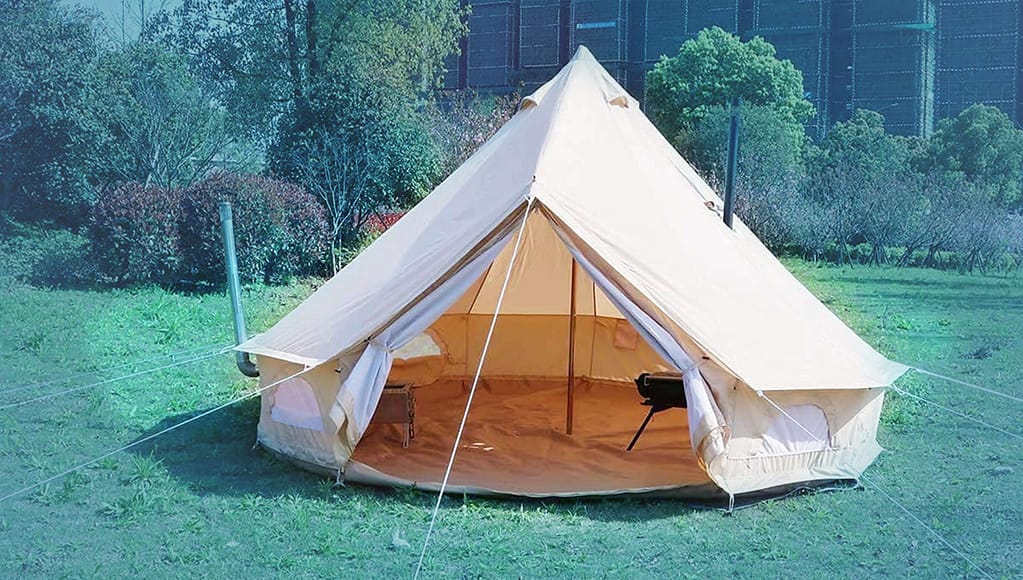 Not one but two stove jacks in it. The Danchel 4 season tent for 5 people has 2 functional stove jacks to give you a wonderful cooking experience. You don't have to stay out in the freezing temp to cook your food. Buy this unit and you will be able to work from the inside.
You can have two full-size mattresses or 4-5 sleeping bags and still have enough room to work things out. Ideal for 6 people, this tent is very big and easy to deal with as well. The material used for the surface is OXford fabric, which is durable and long-lasting.
Oxford fabric gives the tent enough resisting power for rain, wind and other weather phenomena. Oxford fabrics are breathable as well. It will ensure enough airflow on the interior of the tent. The stove jacks come with flaps, letting you cover-uncover the hole whenever necessary.
If you are into family gatherings, fishing, backyard partying or hiking. This tent is made for you. The manufacturer made sure this tent could survive 4 seasons. You don't have to worry about rainy weather, windy conditions or anything else. This is built to tackle all obstacles.
Top-quality ventilation and stove jacks make this product stand out in terms of functionality. A simplistic look is what we like here the most. Grab one of these tents and say no to unnecessary doubts.
Pros
– Trustworthy brand
– 1 quality year warranty
– 4 season tent
– 2 stove jacks for better performance
– Waterproof material
– Fire-resistant oxford fabric
– Tough and solid framing
– Multipurpose outdoor use
Cons
– Chimney doesn't tackle heat well
back to menu ↑
9. UNISTRENGH 4 Season Cotton Canvas Bell Tent with Stove Jack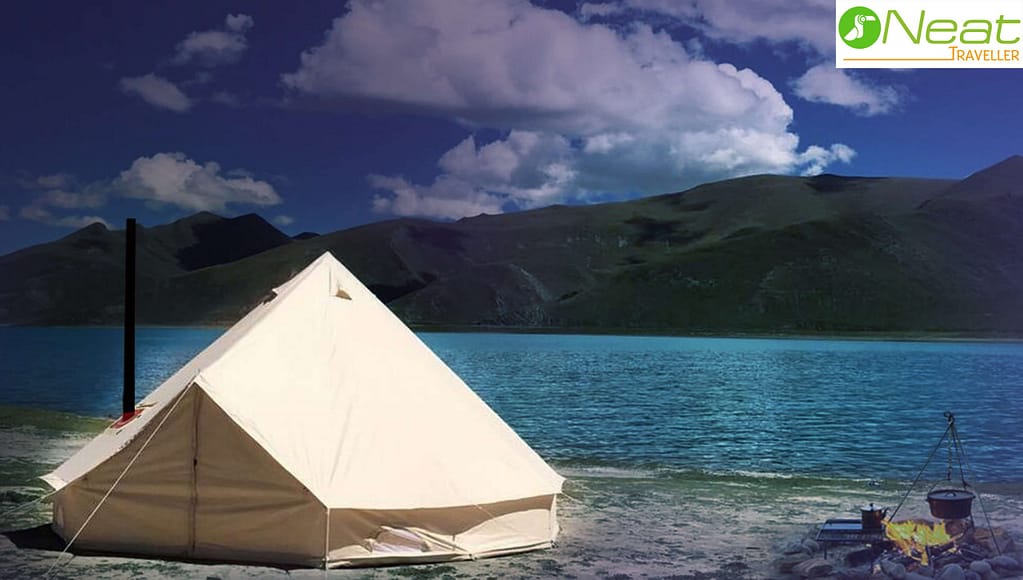 Unistrengh is a decent brand that manufactures camping equipment. Tents like this are suitable to accommodate 3 people at ease. It can also fit 5 people together with its extra-large spacing on the inside. This is a portable tent that you don't want to miss out on.
The design is pretty simple but it has all the workability that you seek in a tent. This item is made with top-tier cotton fabric. What it does is, gives the tent adequate breathability compared to other hard fabrics.
Being cotton structured, is it durable? Yes, it is! Tee fabric is UV treated to shield you from excessive heat and rays. To top it up, you get a completely waterproof tent. The seams on the tent are sealed with utmost care so that there is no kind of water leaks.
Adding to it, there are mesh windows and screen porch that are removable. You get a properly ventilated canvas right out of the box. The good thing about it is that it can tackle rain, wind and even light snow at will. There is a rain cap to keep rainwater at bay. PVC flooring ensures no water leaks from the ground surface. 
The stove jack is extremely durable and has fire resisting material around it. So if you plan to cook inside, do it! We assure you that you will be getting a hard-wearing tent that will last ages with this product.
Pros
– Fire-resistant stove jack
– Breathable cotton fabric surface
– Solid structure
– Spacious for 3 people. Can a group of 5 as well
– Portable design
– Breathable materials
– Affordable
Cons
– Flimsy hardware
– Some customers received tents with missing parts
back to menu ↑
10. PRE SELF 3 Person Lightweight Tent with Fire Retardant Pipe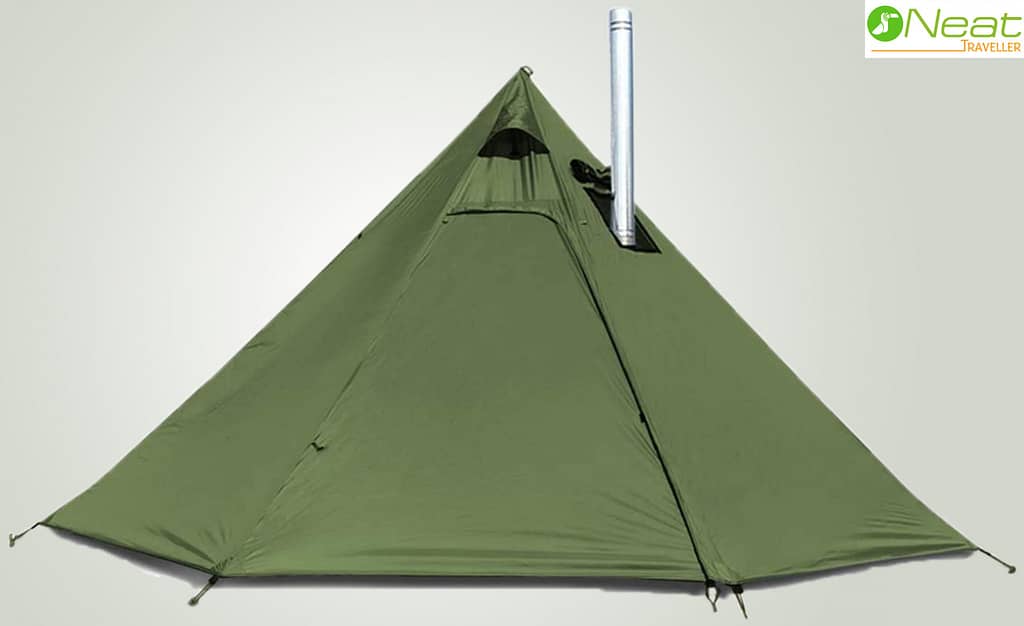 When it comes to the outlook, this has to be the most soothing and simple design, at least according to us. It is a four-season hot tent, which means you can have this tent grounded at any season no matter the condition. A stove jack is present in this tent to give you a better cooking experience even in cold weather conditions. Stay inside and have fun!
What we love about this is that it is very lightweight and portable at the same time. Just 2.5 kg or so. If you are into sudden trips and adventures, just put this tent in your backpack without any worries. The interior spacing is very roomy, suitable for fitting 3 people. You can have a stove fitted in for cooking and heating purposes.
The built quality is very good, to be frank. Made of high-quality 210T polyester fabric which is wear and tear-resistant. That's right, this tent won't deteriorate or tear out any time soon. Adding to its protection, polyurethane material makes it water-resistant as well. This tent has been crafted in a way to withstand heavy winds.
The stove jack is fireproof, so don't worry about fire hazards and such things. Tag along with a group and enjoy the camping experience with this wonderful tent.
Pros
– Simple design
– Comes with a stove jack
– Roomy for 3-4 people
– Flame retardant fabric
– Waterproof and wind-resistant
– Lightweight 
– Portable
– Easy to use
Cons
– Constricting for 3 people with stove in it
– Zippers are cheap
– Minor leakage issues
back to menu ↑
Buying guide
Buying tents can be complicated. There are so many things that make up a good tent. When purchasing the best 4 season tent with stove Jack, you will have to consider a few things to get the best out of your product. Let's check what you need to look after.
back to menu ↑
Ease of use
Tents can be hard to install and time-consuming. Go for something easy to set up, like the Russian Bear 5-person tent with stove jack. It can be assembled in minutes and there are no extra complications in putting up poles and stakes. Having a lightweight, the portable tent is a good option as well. You can easily carry it along in tight spaces. 
back to menu ↑
Stove jack compatibility
Remember that not all tents have stove jacks. So if you want to cook inside the tent, your living space must have outlets. The ones we mentioned in this list have such features. Check out the UNISTRENGH in our number two, it is made of fire-resistant outlets for stove compatibility. If a tent has no chimney or stove exhaust hole, you won't be able to have cooking gear inside your tent. 
back to menu ↑
Materials for the best 4 season tent with stove jack
All tents, no matter what purpose they serve, must be made of the highest grade materials. If you are looking for a tent with a stove jack, make sure the overall surface materials and the jack point are made of fire-retardant fabrics. This will ensure safety and keep you safe. Materials such as cotton and oxford fabric are good choices, they also allow sufficient airflow, thus you feel comfortable inside the tent. Check out the DANCHEL OUTDOOR 4 season tent with stove jack.
back to menu ↑
Ventilation of the best tent with stove jack
If there is no ventilation or insufficient ventilation, never go for the tent. Your tent must have open spaces, breathable fabric, and vent holes, windows no matter what. Adequate ventilation ensures that you stay healthy and always be able to catch your breath no matter what. Products like Danchel, WhiteDuck and such fall into the category. Vent openings and windows are a lifesaver.
back to menu ↑
Floor Size And Center Height for a best tent with stove jack
When selecting a tent with stove jack, it is important to consider the floor size and center height. The floor size should be large enough to accommodate your camping gear and cooking supplies, while the center height should be high enough so that you do not have to stoop while setting up or taking down the tent. These are just a few considerations that you should take into account when selecting the perfect tent for your next camping trip.
back to menu ↑
Size & Shape
Choosing the right 4 season tent is all about getting the right size and shape for your needs. If you are looking for a lightweight tent that can be easily transported, then go for a popup-style tent. If you are planning on spending more time inside the tent, then a mummy-style tent is the way to go. However, if you are just looking for a shelter from the weather during summer camping trips, then a tarp-style tent will suffice.
back to menu ↑
Managing Fire Safety In a Tent With a Stove Jack
Camping can be an incredibly fun and memorable experience, as long as you make sure to take the necessary precautions to manage fire safety. One of the most important steps in ensuring fire safety in a tent is to have a stove jack. A stove jack is an essential piece of camping gear that helps you manage fire safety while cooking your meals. By using a stove jack, you can safely cook your food over the open flame without having to worry about sparks flying and setting your tent on fire. Tents with a stove jack are a great way to manage fire safety in a tent. They allow you to use a portable stove inside your tent, which eliminates the need to hike out to a campsite fire or build an outdoor campfire. Not only is this safer for you and your group, it also saves precious time and energy. With a stove jack, you can cook your food, heat up your water, or even make tea while you're camping.
So for managing Fire Safety In A Tent With A Stove Jack, Here Are Some Basic Things You Need To Know. 1. Do Not Use A Stove Jack When Your Tent Is Indoor. 2. Always Keep An Eye On The Campfire From Inside And Outside your tent 3. Make Sure That All Copper Or Bronze Parts Of The Pot Has Been Removed Before Towing In the Tent 4. If There Is A Button On The Stove Jack, Unhook it and Take it Outside 5. Always Lock Your Tent With a Ratchet Latch. Hopefully this way you can keep the fire management right inside the tent with a stove jack.
back to menu ↑
Price
The price of tents varies from product to product. You can get affordable items, as well as high-end expensive ones. UNISTRENGH 4 season cotton canvas bell tent is affordable, good value for money item. We recommend you pick something that doesn't hurt your expenses. Go for something that you can afford. Russian Bear items are expensive compared to other tents but mark our words, they are of the highest quality.
back to menu ↑
FAQ
back to menu ↑
What is a stove jack?
Stove jacks are exit points on a tent. It connects the stovepipes and helps to extend it towards an output hole. Smokes are flushed out through it. It is necessary when cooking inside a tent.
back to menu ↑
What is the best 4 season tent with a stove jack?
Russian Bear Tent with stove pipe and wood stove is amongst the finest tents in the market. There are so many different models and designs to pick from. We have named a list of the best tents with stove jacks to give you a proper idea of top-notch tents.
back to menu ↑
Are tents with stove jacks safe?
Tents with stove jacks are safe to use only if the tent is made of fire-retardant materials like the one in PRE SELF or the UNISTRENGH 4 season cotton canvas bell tent, which is made of fire-resistant materials. It is also advised that you have proper ventilation in a tent.
back to menu ↑
What makes a good tent with a stove jack?
Tents with stove jack must be made of the best quality materials. This cannot be compromised. Fabrics that are breathable, fire-resistant and have adequate ventilation is what you need. Also, make sure the tent is large enough to fit people and stoves together.
back to menu ↑
Do all tents come with stoves?
No! Not all tents come with a stove. Tents usually don't even have a stove jack. You must get a hot tent particularly to attain this feature. There are exceptions like the Russian Bear tent in our number one pick. It comes with a stove and a stove jack to go with it.
back to menu ↑
Stove jack on sidewall or top, which is better?
Having a jack on the roof is wiser. It dissipates the heat better. On the other hand, having a stove jack on the side walls can be easier to deal with. The comfort and functionality depend on your preference. We like it on top, you might have it work better on sidewalls. So we ask you to go for your preference.
back to menu ↑
Final Verdict
We have had many inquiries about tents with stove jacks. This is why we decided to put up this article to make sure that camping enthusiasts get to know about the best 4 season tents with stove jacks. You can now gossip with your friends and yet multitask like, heat your coffee, water or make some delicious food under one roof.
As for us, Russian Bear wins it in terms of overall performance. That being said, don't forget to check out all other reviewed tents. These products are enlisted for all good reasons. Pick something that complements your budget. It's time to ready your stove, and cook some scrumptious food to awe your fellow campers.