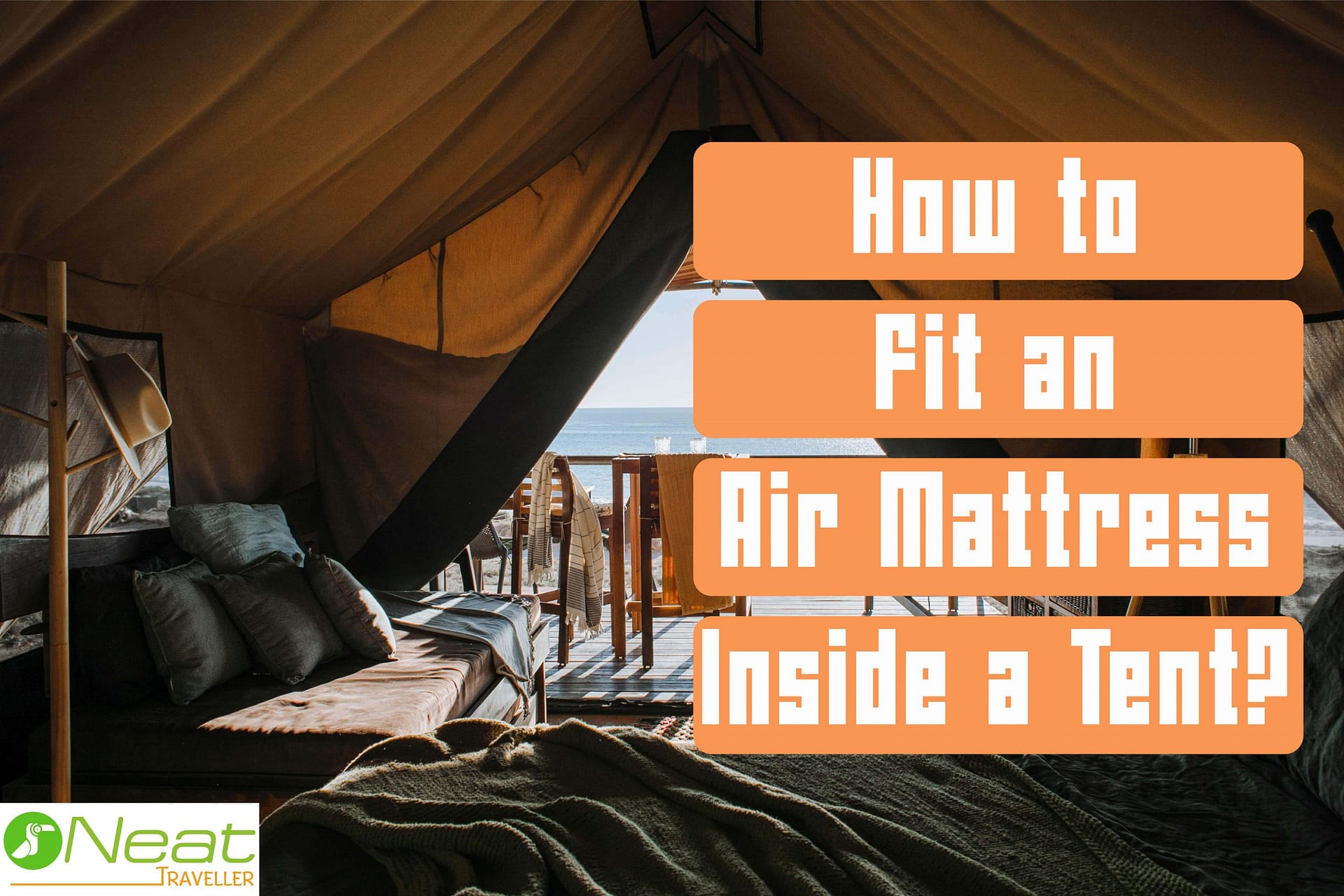 Tenting is one of the most exciting things to do when the weather is serene. But are you concerned if you can take an air mattress with you and fit it inside the tent? An important thing to consider when tent camping is to fit the air mattress inside the tent.
Well, air mattresses are definitely more comfortable than sleeping pads. They have more height and a firmer surface than sleeping bags or pads. But fitting them inside a tent can be an issue.
So, if you're considering taking an air mattress along with you for tent camping, you need to know how you can fit the air mattress inside the tent. Whether it's a two-person tent or a four-person tent, you need to find it out before you move out for camping.
Are Air Mattresses Good for Tent Camping?
An air mattress is a comfortable alternative for sleeping pads. They are lightweight, hence easy to carry. Though air mattresses are very common and popular among car campers, you can use an air mattress for tent camping. Also, the air mattress makes sleeping on the ground comfortable. However, it has some negative aspects as well. An air mattress might have worse insulation than a sleeping bag. So, if you are winter camping or going in a cold area for camping, you should better pack some insulating sleeping bags along with the air mattress.
How to Fit an Air Mattress inside Tent?
These tips will help you to fit the air mattress inside the tent.
As tents come in a variety of sizes, you need to figure out which tent can fit a particular mattress. You need to figure this out before buying the mattress.
Check out the floor dimension of the tent and match it with the mattress size.
Get one size bigger than your requirement if you prefer to be comfortable.
Go for the true mattress and tent size if you want to pack light and tight and don't need additional storing space inside the tent.
Inflate the mattress inside the tent.
Cabin tents or ridge tents are a better option for larger air mattresses to fit in.
Easy Guideline for Matching Tent and Air Mattress Size:
A handy, easy-to-understand measurement chart for picking the right mattress for a particular tent size.
No
Mattress Size
Measurement (Length x Width)
Required Tent Size
1.
Single Mattress
Small: 47" x 20"
Regular: 72" x 20"
Regular Wide: 72" x 25"
Large: 77" x 25"
A single mattress will fit any tent size.
2.
Double Mattress
77" x 50"
2-person or larger.
3.
Queen-size Mattress
80" x 60"
3-person or larger.
4.
King-size Mattress
84" x 72"
6-person or larger.
Fitting the air mattress inside your camping tent can be a hassle as one tent doesn't fit all mattresses. Whether an air mattress would fit inside a tent or not mainly depends on its size besides a few factors. They are as below-
Single Person Air Mattress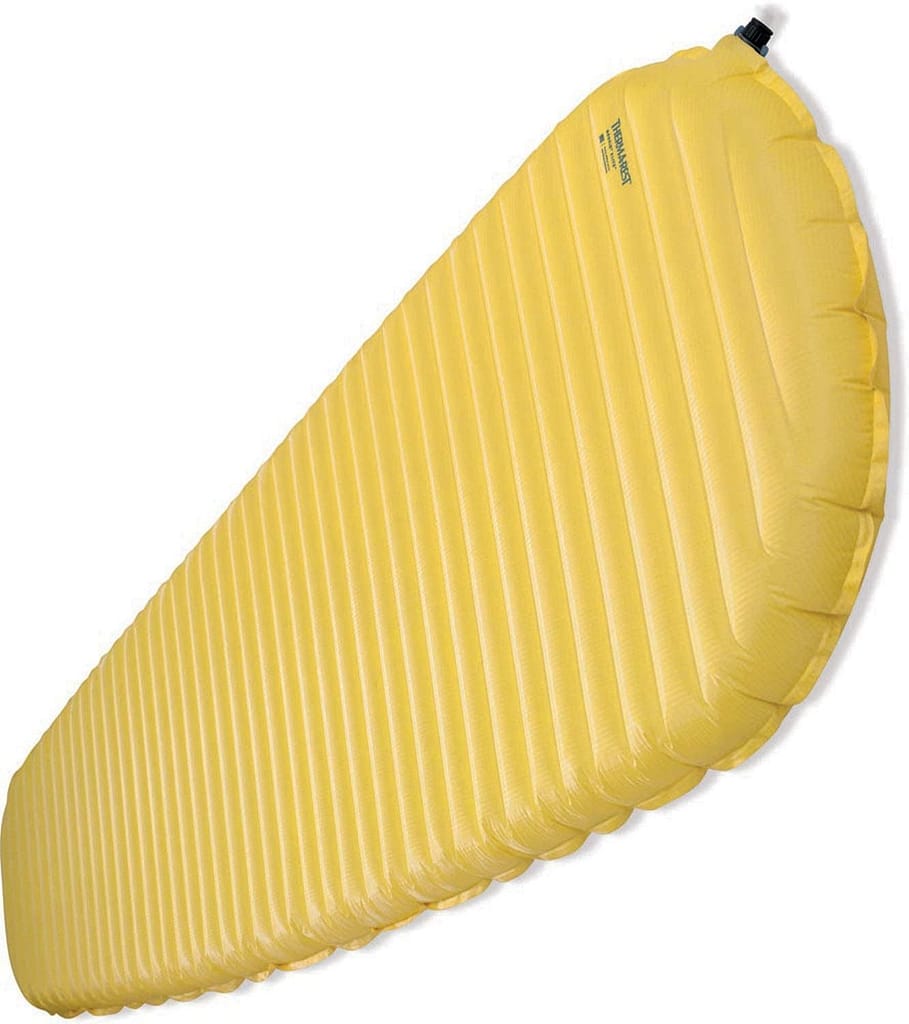 When you go solo camping, you're most likely to take a single sleeping pad. Multiple brands make good-quality sleeping pads that fit inside a single-person tent. Take the Therm-a-Rest NeoAir XLite for example. This 340-gram lightweight mattress would easily fit into this Big Agnes single-person tent. The pad is suitable for one person and you will have some spare space for the gears.
Additionally, you have the option to choose the size you prefer. However, 1-person sleeping pads may come in more or less four sizes- large (25" W x 77" L), regular (20" W x 72" L), regular wide (25" W x 72" L), and small: 20" W x 47" L. And the common floor dimension of a 1P tent is 84 inches long and 33.6 inches wide.
Double Mattress
A 2P or two-person tent, in general, has plenty of room for one person but is a little tight for two people. So, it might bother one whether the mat would fit inside. If you fill a 2P tent with a double mattress, the sides of the mattress would touch the walls. Therefore, you'll barely have any space for the gears or moving around. Also, you can fill it with two single mattresses, whatever fits you best.
Nemo dagger is a two-person tent with an air mattress floor dimension of ninety inches by fifty inches. You can pick  KLYMIT Double V that has a dimension of seventy-four inches by forty-seven inches which fit perfectly inside the tent. However, you won't have any space on the side of the mat, you'll have about 16 inches of spare space for the gears at the foot. Also, this insulating mat will keep you warm. But if you want a spacious tent, then go for MSR Mutha Hubba NX which is a three-person tent. And the twin mat would fit cozily inside it. This tent has a floor area of 39 sq. feet.
Queen Size Air Mattress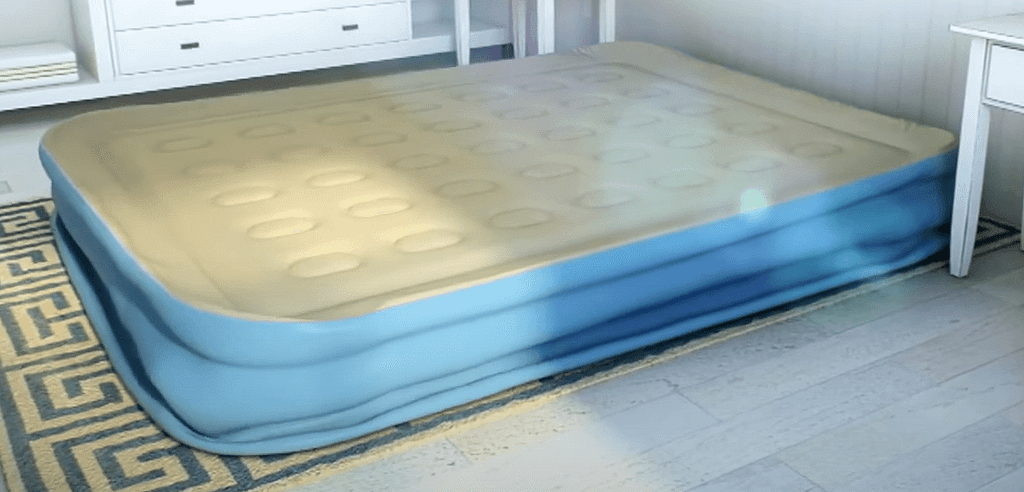 If you want to have some extra space inside the tent for the gears and stuff, you'll require a tent that has a floor size larger than an 80" by 60" queen-size mattress. A four-person tent fits best for this criteria. However, Ohnana Rayve 2 is another tent option that has enough space to fit a queen-size mattress. This tent has a sleeping area consisting of 72 inches wide and 84 inches long but you won't have any spare space inside the tent then. And it may result in condensation due to consuming most of the floor space. Coleman SunDome 3-person tent is the perfect tent to fit a queen size air mattress dimension. And this mattress has 3, 4, and 6-person capacities. So, you can choose accordingly.
King Size Air Mattress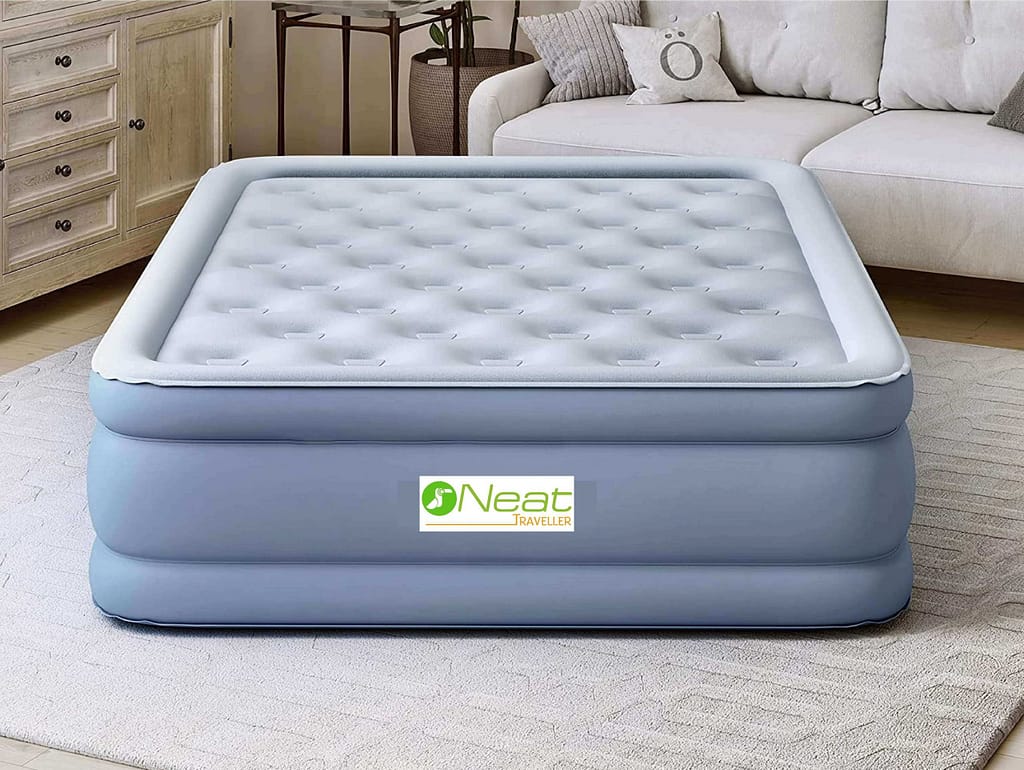 King size mattress is huge and you'll require a 6-person tent to accommodate a king-size mattress. These tents typically have a floor area bigger than 84" by 100". So, fitting a 72 by 84 inches king-size mattress wouldn't be a problem. And there will be additional space to store goods and gears inside the tent after inflating the air mat. You can pick the Coleman SunDome 6-person tent for your king-size mattress.
A Few Things to Consider
You should also keep in mind a few things-
How many of you are going tent camping?
How long are you going to stay?
How large are the campers?
What's the relation between them?
How would the weather be while you're camping?
Do you want to pack light or go comfortably?
Type of camping: solo or group camping?
Do you need wide sleeping pads or do the regular mats do the job?
Answering these questions may help you find a better picture of the right mattress size for your tent. And there are tents with built-in mattresses on the market. You can easily pick one of those if you have to buy the tent and mattress altogether and don't wanna go through the size matching hassle.
Final Words
We tried to put up the best handy guideline for how you can fit an air mattress inside a tent.
Even though the manufacturers provide an instruction book with every tent which includes the tent dimension, you can always use a measuring tape to figure out the actual size of your tent and buy the right mattress size for it.
We hope it helped you to get the direction in terms of finding out the right size and how you can fit the mattress inside the tent. We recommend blowing the mattress inside the tent. Otherwise, it'll be quite difficult to put it inside afterward.