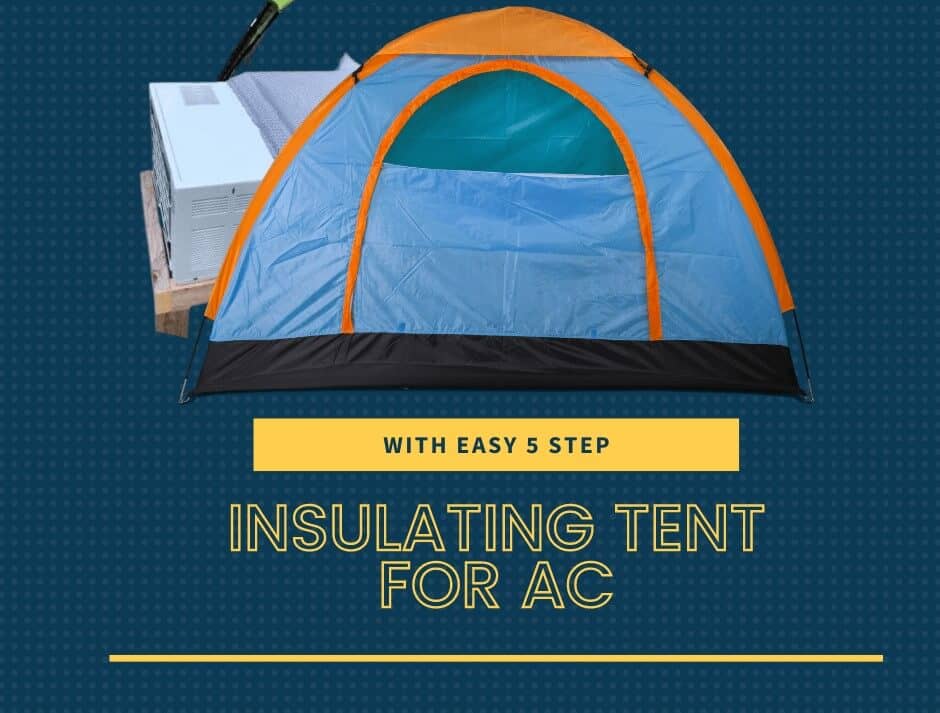 Whether you plan to install an AC in your for summer camping or you want to contain the heat inside while camping in the winter, insulating is a must! But skip the winter camping for now. We are here to talk about all serene summer camping and how you can avoid the summer heat with proper insulation of your tent for AC.
An AC can reduce the temperature inside your tent and chill the summer heat. Therefore, carrying an AC along with you may sound like a hassle but for a comfortable camping experience, you should be able to give this little effort.
Here we are discussing how you can insulate your tent with handy things and why it is important to insulate your tent for using AC. Following these methods, you can properly insulate your tent from all sides. But before insulating the tent, let's see why insulating a tent is so important.
How to insulate a tent for AC
back to menu ↑
Why Do You Need To Insulate A Tent For AC?
Tents generally don't have any self-insulating mechanism. Therefore, if you want to air condition your tent in summer, you need to insulate the tent. Also, the tent can have a lighter fabric through which the air can pass. The penetrable tent fabric makes it harder for the AC to work at its full capacity. And it has to use more fuel thereby.
Insulating is required to get a controlled environment inside the tent to cool it down. Improper insulation will result in an uncontrolled temperature and warm condition. And all your effort may go in vain if you don't insulate the tent properly.
Moreover, summer camping tents tend to have a meshy roof and windows. If you keep the mesh unattended, the AC you install will be at greater pressure to keep the tent cool. Therefore, to chill the tent properly and sleep comfortably in a humid environment, you need to insulate your tent.
back to menu ↑
Insulating Your Tent for AC: Air Condition Your Tent Efficiently
Insulating for AC is more or less similar to how you insulate a tent for cold weather. To overall insulate your tent, follow the given methods. These are some simple methods and don't require fancy things. Let's dive into the details.
back to menu ↑
1: Using an insulating sheet under the tent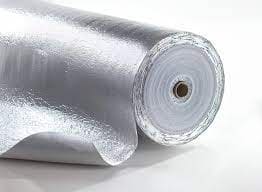 In summer, the grounds also get heated as the temperature rises. Therefore, you need to put the insulation on the ground as well to get rid of the excess heat. Now if you are concerned about what to use under the tent, you can use the tent groundsheet, or you can use a polyester sheet.
The polyester sheets are made of Polyethylene terephthalate which is water-resistant, humid proof and seals the tent completely from the ground. If your tent does not include a groundsheet, you gotta buy one. Also, check out the material of the sheet whether it's made of the proper material to insulate the tent.
Insulating the ground will prevent any heat leakage from the floor. Also, when you put plastic layering under your tent, it repels any insects or bacteria. Moreover, PET sheets do not wrinkle easily. Just put a layer of PET sheet on the ground of your tent to insulate it from underneath.
back to menu ↑
2: Covering the tent with a reflective tarp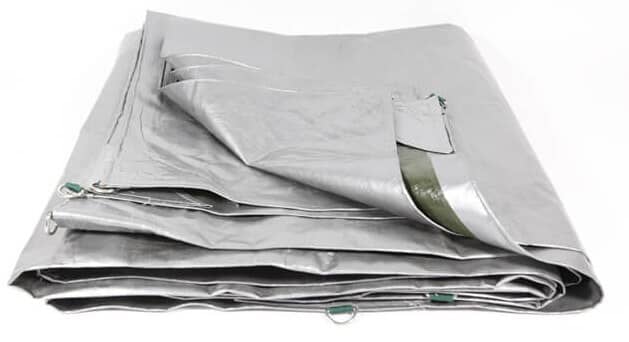 The tents used for summer camping generally include a mesh roof for airflow. To insulate the outer side of your tent you need to cover the roof with a reflective tarp even if the tent has a rainfly.
Now not any tarp will do the job, you'll have to use a reflective tarp. Why is it so important? Because, first of all, it will reflect the sun insect's rays. Secondly, the tent will be colder and you will have a shade to hide from the scorching sun.
You have to place the reflecting side facing outwards. The additional benefit of the tarp is, it will protect the tent from rain if you don't have a rainfly and other elements.
The Arcturus Tarp is a lightweight reflecting tarp to use for camping. It has a measurement of 83" by 60" and weighs around 16 oz. This reflective tarp comes with a storage bag and metal grommets. However, the stakes are not included with it.
Choosing a heavy-duty tarp is the best for long-lasting service life. In this case, the Bearhard Reflective Tarp can also be a great pick as it includes stakes and metal grommets to secure the tarp down. And the additional carry bag is conveniently used for carrying the tarp. It has a similar coverage area as the Arcturus Tarp though a little bit heavier than it.
If you want a tarp that can be used for many other purposes even after using it on the tent, then you can see AmazonCommercial Multi-Purpose Waterproof Poly Tarp.
back to menu ↑
3: Using thermal blankets and plastic sheets to create a vapor barrier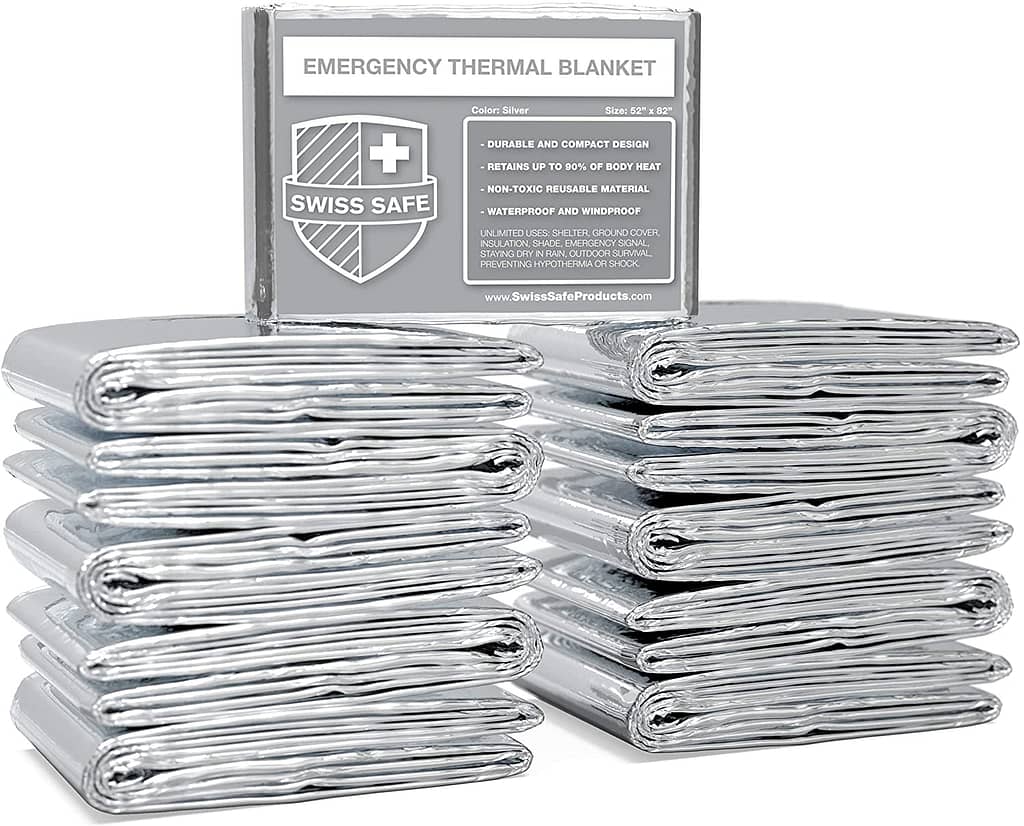 As the reflecting tarps are a bit heavy in price. Therefore, the third and cheaper option for you is to use thermal blankets. Though we mostly use them for ourselves, they are great insulators. They have similar compatibility as the reflective tarps. But as they do not have any metal grommets and stakes, you have to find a way to secure them with the ground.
In addition to that, it's a quick, at-hand solution to the insulation problem. However, the method is more effective if you put the emergency blankets from the inside of the tent as well. It will create a vapor barrier and insulate the tent properly. And in case of a shortage of blankets, you can use plastic sheets on the outside and use spray adhesive to attach them to the tent.
back to menu ↑
4: Cover the minor leakage with a pool noodle and duct tape
After covering all sides you'll notice some minor leaks which prevent complete insulation. Even a minor leak can disrupt the total insulation process and as a result, the tent may not cool properly. Also, you'll be sweating inside it.
You have two options to cover it. The first one is using duct tape. After checking the whole tent, if you notice any minor leakage inside the tent, block the path with duct tape. Moreover, you can use duct tape for closing the tent with AC ports.
Use pool noodles on top of the leak. It may seem like child's play, but it's very effective to cover up the small holes. Pool noodles are reusable. Also, it's a cheap way to cover minor leaks.
back to menu ↑
5: Using an Air-Conditioned Tent
The climate specialists predict global temperature will increase in the coming years. As the climate is getting warmer day by day, tentmakers are producing new varieties that will meet the needs of campers in disrupted weather. It's a new addition to tent camping where you get all the facilities of an air-conditioned tent.
These insulated, technology-based tents can be useful in extreme weather to protect you from heat and cold. Many campers go camping regularly. These tents can be the right pick for them if they want a pre-insulated camping canopy.
Tents with AC ports are a little different from regular tents having one or two vents for AC cable. The dark fabric prevents 99% of sunlight from penetrating which keeps the inside environment cooler than a regular tent. Though it comes pre-fabricated, it can be a little expensive compared to regular tents. Therefore, you need to have a better budget for it.
back to menu ↑
How to Use a Portable AC Unit In a Tent?
Things you need to gather for a tent air conditioning system are- A portable air conditioner, a tent with an air conditioner slot, a stand for the AC, and a reliable power source, either a generator or rechargeable battery.
Tent Air Conditioner
If you're considering conditioning your tent, then you have two options to choose from- Tent with window AC unit, or Free-standing AC.
back to menu ↑
i) Free Standing Air Conditioner
A portable, free-standing air conditioner can be a great option if you want to use an AC in the tent. This AC comes with a hose that drains the water vapor outside. Also, it's a self-standing AC and doesn't need any AC stand. But they take valuable space inside the tent.
However, the best thing about this option is that you don't have to worry about sudden rain as the Portable air conditioner can fit inside the tent. And it doesn't need an additional AC port. Therefore, if you don't want to buy a new tent with an AC port, the free-standing air conditioner will be the best option for you
back to menu ↑
ii) Tent With A Window Air Conditioning Unit
The second option you have is a tent with an air conditioning unit in the window. However, this AC can be a bit heavier, you need to consider how much weight you wanna carry to the campsite. Or better, choose a smaller option.
Also, a smaller window AC unit will have a smaller BTU, preventing the tent from getting way too cold. But for a large tent, using a regular window AC is suitable to chill a big group.
back to menu ↑
Power Source
You will need a reliable power source to operate the AC. air conditioners need way too much electricity to run. So, you can use a power source that provides at least 120V of electricity.
back to menu ↑
AC Stand
If you plan to use a window AC, then an AC stand is needed. The AC stand supports the AC to stand in the position and supply flawlessly. But if there is something sturdy or heavy like a milk crate or storage tote to support the AC, then you can use it as well.
back to menu ↑
Conclution
An insulating inserts tent is necessary for creating the perfect chilly temperature inside the tent. As AC becomes a part of summer camping, it is required to know how to install an AC in the tent port. Insulating a tent for AC is the pre-requirement for using it properly. But you need to check all the sides of the tent to fix any unattended holes to fully insulate the tent.